Putin blasts US sanctions, offers Comey 'asylum' during call-in show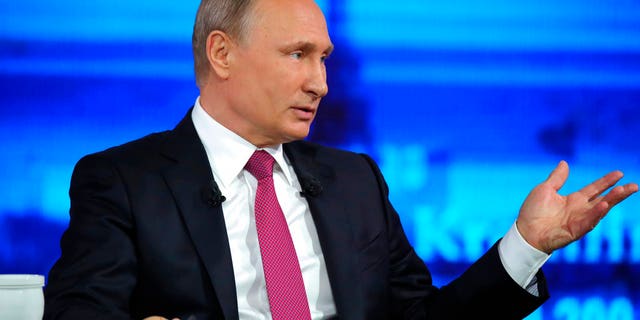 NEWYou can now listen to Fox News articles!
Russian President Vladimir Putin on Thursday boldly claimed that efforts by the U.S. to hurt his country's economy would backfire, making it stronger while the West suffered.
Putin made the claim during his annual live call-in show, which covered a wide range of topics, and included several shots at the United States. At one point, he sarcastically offered asylum to former FBI Director James Comey -- a sign the Russian president was annoyed by the congressional and FBI investigations into links between Trump campaign officials and Moscow.
The U.S. Senate voted Wednesday to punish Moscow for interfering in the 2016 election by approving a wide-ranging sanctions package that targets key sectors of Russia's economy and people who carried out cyber-attacks. In response, Putin claimed the sanctions drove Russia to "switch on our brains and talents." He said despite his country's reliance on oil, Russia's electronics, aerospace and agriculture industries all have grown.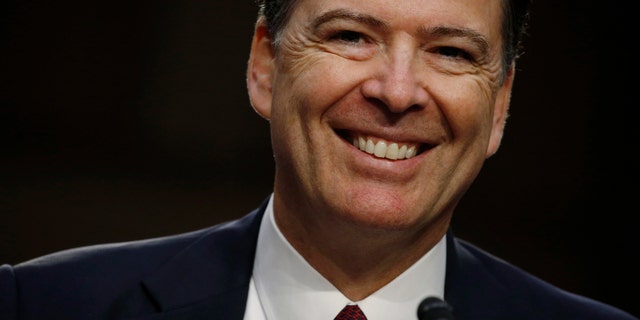 Putin compared Comey's move to that of NSA contractor Edward Snowden, who has been living in Russia through asylum since 2013. Russia has resisted U.S. pressure to extradite him.
RUSSIA INVESTIGATION: WHO'S WHO
The Russian president called Comey's acknowledgement that he has given his account of conversations with President Donald Trump to a friend who leaked them to the media "weird." Putin denied meddling in the U.S. election, saying Russia has openly expressed its views and hasn't engaged in any covert activities. He described the allegations as a reflection of "exacerbating political infighting."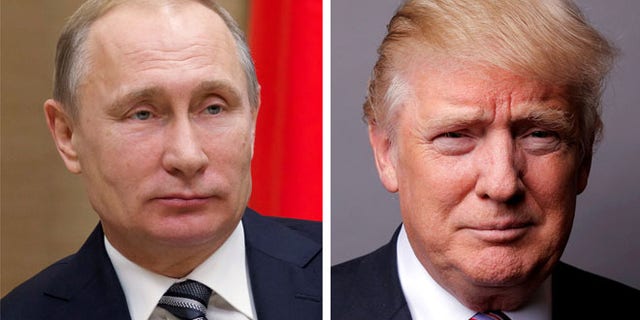 At the same time, Putin said he still hoped for warmer ties with the United States. Putin said Moscow and Washington could cooperate in efforts to prevent the spread of mass destruction weapons, including the North Korean nuclear and missile problem.
He said the two countries could also cooperate in dealing with other world issues including global poverty and efforts to prevent climate change. Putin noted that Moscow hopes the U.S. could play a "constructive role" in helping settle the Ukrainian crisis.
Among the other topics Putin addressed:
Russia's economy
Putin noted that the Russian economy has been recovering from its recession, Reuters reported. Putin declared the "crisis is over" and pointed at an economic growth over the past nine months. He also pointed at low inflation and rising hard currency reserves.
Putin's family
While the Russian president usually does not mention his family, he did address that he has two grandchildren – one in pre-school and a grandson who was just born. He noted that both of his daughters are living in Moscow, working in science and education.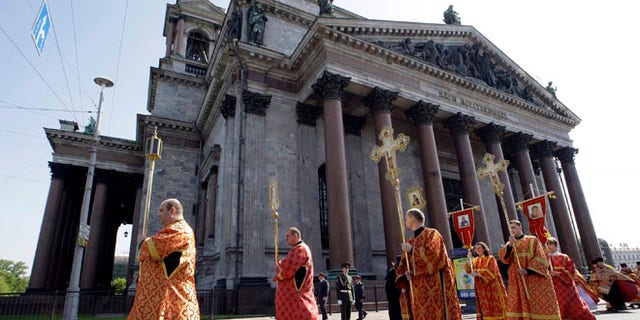 PUTIN: RUSSIAN MEDDLING "FICTION" INVENTED BY DEMOCRATS
Controversy over historic church
During the time of Soviet occupation in Russia, the St. Isaac church was turned into a UNESCO-protected site and run as a museum. Following the Soviet collapse in 1991 the cathedral continued to serve as a museum and hosted the occasional religious service.
There have been plans to hand St. Isaac's back to the Russian Orthodox Church, which has been a major point of protest. St. Petersburg residents fear an increase in the Church's role in Russian society.
When asked about his position, Putin said the original idea to set up a museum in St. Isaac's was "an insult to religious sentiment" and that the church has a right to claim it. He did, however, offer assurance a compromise will be found to accommodate the museum's needs.
The Associated Press contributed to this report.