Puerto Ricans mourning attack on Orlando club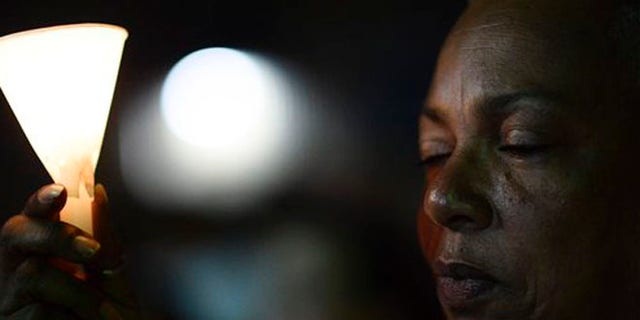 SAN JUAN, Puerto Rico (AP) – Ever since last week's shooting at the Pulse nightclub in Orlando, people across Puerto Rico have been frantically calling relatives in Central Florida, scrambling to book flights and making funeral arrangements.
The massacre of 49 people early Sunday by a gunman with a semi-automatic rifle shocked people worldwide. But it has been felt particularly hard in this U.S. island territory because so many victims were either born here or were just a generation removed.
As remains of some victims began arriving Thursday in Puerto Rico for burial, people around the island mourned what felt like an attack in their backyard.
"It's a pain that touches all of us," Maritza Lopez said as she hugged friends at a San Juan vigil for people killed at Pulse. "Orlando has become a second Puerto Rico."
Puerto Ricans flocked by the tens of thousands to Orlando and nearby areas as the island struggled through a troubled decade.
Central Florida became what New York was to an earlier generation, a place to start a new life. It's reflected in many area business names evoking Puerto Rico, in the growing political influence of the Hispanic population. And it showed up in the death toll from Pulse, where nearly half of those killed had Puerto Rican ties.
"This is the new migration hub," said Christina Hernandez, a communications consultant of Puerto Rican descent in Orlando who was helping victims' families get in touch with local authorities. "Everyone who is Puerto Rican has family in Central Florida."
That connection between the Orlando attack and Puerto Rico will play out in the coming days with wakes and funerals around the island. The remains of Javier Jorge Reyes, a 40-year-old salesman and makeup artist arrived Thursday, as did those of Angel Candelario, a 28-year-old nurse who planned to start working toward a doctoral degree at the end of summer. "Unfortunately, he didn't make it to September to reach his goal," said his aunt, Leticia Padro.
A wake for Candelario, whose partner was wounded in the attack and remains hospitalized, was held late Thursday at the home of his grandparents in the town of Guanica, with about 50 mourners gathered in front of the house. He was to be buried Saturday, his body transported to the cemetery in a glass horse-drawn carriage. "He deserves only the best," Padro said.
Family members held a wake Friday for Reyes at a cemetery in Guayama, a town along the south coast he left for Orlando after graduating from college 17 years ago. "He was crazy about leaving," said his younger brother, Gabriel.
Now, his parents are considering moving to Central Florida themselves, to be closer to family there. "We scattered about," Reyes said. "But this is bringing us back together again."
Due to arrive on the island soon are the remains of Jean Carlos Nieves Rodriguez, a 27-year-old who had worked as a manager at a McDonald's restaurant and at a check-cashing business since moving to the U.S. from Puerto Rico. He is to be buried Monday in the town of Caguas. Also awaited here is the body of Jonathan Camuy, 25, who moved to Central Florida to work for the Spanish-language television network Telemundo.
When the attack occurred, it was "Latin Night," with people from various countries, including Mexico, Venezuela and Cuba at the nightclub catering to the LGBT community. Officials said at least 23 of those killed were Puerto Rican, underscoring Central Florida's allure for people from the island.
Puerto Ricans have been U.S. citizens since 1917 and can travel to the mainland without a passport. They are the second-largest Hispanic group in the U.S., far outnumbered by people of Mexican descent, and historically have been concentrated in the northeast.
The number of Puerto Ricans in Central Florida began swelling a decade ago. Some are retirees from the northeast, but many arrive directly from the island, seeking economic opportunities in a warm climate where they already have family. People from the island number around 1 million, nearly 30 percent of the population in the Orlando-Kissimmee region.
Friends of victims say that one factor in the migration for some of the Puerto Ricans at Pulse on the night of the killing may have been the search for a more hospitable environment. Puerto Rico is more culturally conservative than many parts of the mainland, certainly more than Orlando, and LGBT people say they encounter hostility on the island. Puerto Rico only allowed same sex marriage after the Supreme Court legalized it in 2015. Hernandez said local activists have told her some victims' relatives have been reluctant to claim remains because of disapproval of homosexuality.
"In Puerto Rico, there is homophobia, there is xenophobia, there is racism, there is chauvinism," said Carmen Yulin Cruz, San Juan's mayor. "And all of that kills. We have to change the culture of this island."
Sullymarie Sosa, a friend of two men from the southern coastal city of Ponce who were killed, said she believes many LGBT people moved to the mainland to escape an island that can feel stifling, despite a population of 3.5 million people.
"It's a big factor for the gay community," she said. "They are more accepted over there. There's freedom. They can walk, they can express themselves."
But there were plenty of other reasons to join 200,000 people leaving Puerto Rico from 2010-2014. "They had so many more opportunities that they didn't have here," Sosa said.
Puerto Rico has been sliding since Congress began phasing out a corporate tax break in the mid-2000s, leading to the elimination of thousands of pharmaceutical manufacturing jobs that were the economy's backbone. Unemployment has been in the double-digits for a decade and the local government and utilities have started defaulting on massive public debt. Many streets, poorly maintained for lack of funds, are lined with shuttered businesses and foreclosed homes.
On top of that, the homicide rate is far higher than in any U.S. state. An outbreak of mosquito-borne Zika virus that health authorities say will infect 25 percent of the population is driving away tourists, hurting one of the economy's few bright spots.
Orlando's Puerto Rican community began growing as the island economy started to tank and hasn't let up. Some killed at Pulse were relatively recent arrivals.
"Their relatives now have a bitter pill to swallow," Ponce resident Omar Ruiz, who lost several friends in the attack, said as he put up decorations for a vigil. "They lost a loved one because they went in search of a more promising future."
Like us on Facebook
Follow us on Twitter & Instagram