Prosecutors: California Police Officers Left Homeless Man Lying In Pool Of Blood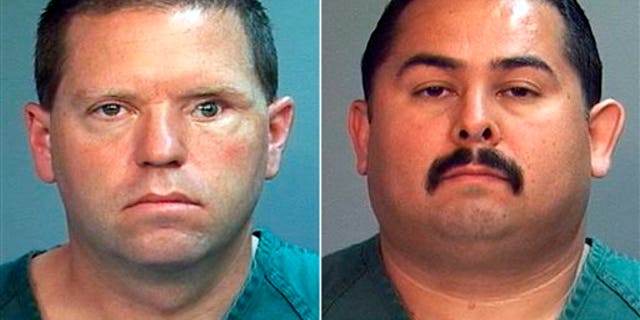 SANTA ANA, Calif. (AP) – Two California police officers escalated a routine encounter with a homeless man into a beating that left him lying unconscious in a pool of blood and caused his death days later, a prosecutor said on Monday.
In opening statements at the officers' trial, Orange County District Attorney Tony Rackauckas told jurors in a Santa Ana courtroom that former Fullerton officers Manuel Ramos and Jay Cicinelli were responsible for the death of 37-year-old Kelly Thomas in July 2011.
"This entire incident was characterized by example after example of substandard police work, clear violation of policy ... and that ultimately caused severe trauma that led to Kelly Thomas' death," Rackauckas said.
Thomas, whose family says was schizophrenic, died five days after the violent confrontation with six officers who responded to a call about a man jiggling car door handles in a transit center parking lot.
Ramos, 39, has pleaded not guilty to second-degree murder and involuntary manslaughter. Cicinelli, 42, has pleaded not guilty to involuntary manslaughter and use of excessive force. Both have been free on bail.
John Barnett, Ramos' attorney, said Thomas' long-time drug use led him to have violent outbursts. Barnett said his client had years of experience dealing with homeless people and took the steps he did to protect the public.
"This case is not about a homeless, helpless, harmless mentally ill guy. This case is about a man who made choices in his life, bad choices, that led to his tragic death," Barnett said in his opening statement.
A third officer will be tried separately on charges of involuntary manslaughter and excessive force. Three other officers were not charged.
The case fueled months of protests that led to the resignation of the police chief and a recall election in the college town.
The six-week trial promises to re-ignite those passions. A judge has banned family supporters — a loose coalition that calls itself "Kelly's Army" — from wearing pins and T-shirts that might inflame the jury. The district attorney's office plans to use Twitter daily to update the public on its case.
Thomas, who some called "Crazy Kelly," was known around town for his disheveled red beard and erratic behavior and was already familiar to police.
Ramos had been called on seven previous occasions to remove him from private property, and Thomas had been written up for trespassing, urinating in a fountain and vandalism, among other things.
The altercation that led to his death started with Ramos rolling up to a police call about a man who was trying to open car doors at Fullerton's busy transit center. This time, however, things escalated — and much of it was captured on the surveillance tape that promises to be the trial's centerpiece.
Rackauckas has said investigators overlaid recordings from the officers' body microphones with the tape, allowing prosecutors to provide a blow-by-blow narrative of an "impending beating by an angry police officer" and verbatim quotes from the officers and Thomas as the scene unfolded.
Initially, Ramos chides Thomas for his evasive answers: "It seems like every day, we have to talk to you about somethin' ... Do you enjoy it?" Ramos asks Thomas, according to a prosecution transcript.
Within minutes, Ramos grew angry as Thomas refused to cooperate. He snapped on latex gloves, held his fists in front of Thomas' face and said, "Now see my fists? They are getting ready to (expletive) you up," according to the transcript.
Thomas stood up and pulled away, prosecutors said, and Ramos chased him down, tackled him and punched him in the ribs as he pinned him down.
Cicinelli, who arrived moments later, is accused of kneeing Thomas twice in the head and using a Taser on him four times before hitting him in the face with the blunt end of the stun gun eight times. The coroner listed the cause of death as mechanical compression of the thorax, which made it impossible for Thomas to breathe normally and deprived his brain of oxygen.
Follow us on twitter.com/foxnewslatino
Like us at facebook.com/foxnewslatino