Pro-Russian rebels force Ukrainian troops to retreat from railway hub, as Putin mocks cease-fire
Ukrainian separatists dubbed by Russian President Vladimir Putin as "yesterday's miners or yesterday's tractor drivers" drove Ukraine's army from a key rail hub in the eastern part of the country in what was branded a "crushing defeat" just days after a short-lived cease-fire agreement.
Fierce fighting around the town of Debaltseve, through which railroads linking the two major separatist cities of Donetsk and Luhansk pass, had been raging for days despite a cease-fire deal brokered by European leaders and signed by Putin to take effect Sunday. The past was supposed to be followed by the withdrawal of heavy weaponry beginning Tuesday, but the fighting barely paused.
On Wednesday, multiple sources told Fox News that the pro-Russian rebels were holding 300 Ukrainian troops prisoner, but officials in Kiev insist that the number is lower. Russian state-owned television on Wednesday showed images of several dozen Ukrainian troops being escorted along a village road by the rebels.
The separatists have claimed that the area around Debaltseve isn't covered by the cease-fire deal. Putin, who helped broker the agreement last week, mocked the Ukrainian forces and suggested they should lay down their arms.
"Of course, it's always bad to lose," Putin told reporters. "Of course it's always a hardship when you lose to yesterday's miners or yesterday's tractor drivers. But life is life. It'll surely go on."
Ukrainian President Petro Poroshenko said 30 soldiers were injured in the withdrawal and no one was killed, despite reports saying more than 100 troops were wounded.
A military source told Fox News the retreat was "chaotic" and there are reports of troops being separated from their units, losing communications and convoys being disrupted.
Semyon Semenchenko, a volunteer battalion commander and a member of the Ukrainian parliament who was highly critical of the government's decision to retreat, said in a statement that 167 injured soldiers have been evacuated from Debaltseve. He mentioned a high death toll and said some bodies had been left behind but did not give specific numbers.
It appears that much of Ukraine's military hardware -- including tanks, APC's and light weapons -- are being taken away with the Ukrainian military, but the rebels say they have seized a lot.
Some retreating troops said Wednesday they had not received any reinforcements in Debaltseve from the government and had been walking for a whole day. One Ukrainian soldier who introduced himself only as Nikolai said he was not even sure if his unit was retreating or being rotated elsewhere.
"I don't know. Our commanders didn't tell us whether it's a retreat or just a rotation," he told The Associated Press. "They just told us to change our positions because our unit had been staying there for quite a long time and we had sustained quite big losses."
Some were driving to the nearby town of Artemivsk in trucks while several others, unshaven and visibly upset, were on foot.
One soldier spoke of heavy government losses, while another said they had not been able to get food or water because of the intense rebel shelling. A third spoke of hunkering down in bunkers for hours, unable to even go to the toilet because of the shelling. They smoked cigarettes in the frigid winter air and gratefully accepted plastic cups of tea given to them by locals.
"We're very happy to be here," the hungry soldier told the AP. "We were praying all the time and already said goodbye to our lives a hundred times."
Poroshenko sought to portray the withdrawal as a tactical decision that "laid shame on Russia." He said the army had withdrawn 80 percent of its troops from the town by Wednesday morning and two more columns had yet to leave.
"Debaltseve was under our control, it was never encircled. Our troops and formations have left in an organized and planned manner," he said in televised comments.
"The Ukrainian troops... gave a blow in the teeth to those who were trying to encircle them," Poroshenko said at a Kiev airport as he traveled to eastern Ukraine to "shake the hands" of the soldiers leaving Debaltseve.
Ukrainian government critics called the withdrawal a "major setback" and "psychological blow" for demonstrating that its troops cannot stand up to the Russian-backed rebels. Others are calling for Ukrainian military commanders to resign, citing poor strategies.
Semenchenko, the battalion commander, on Facebook accused the military command of betraying the country's interests in Debaltseve.
"The problem is the command and coordination," he said. "They are as bad as can be."
But some critics are calling for a counter-attack against the rebels.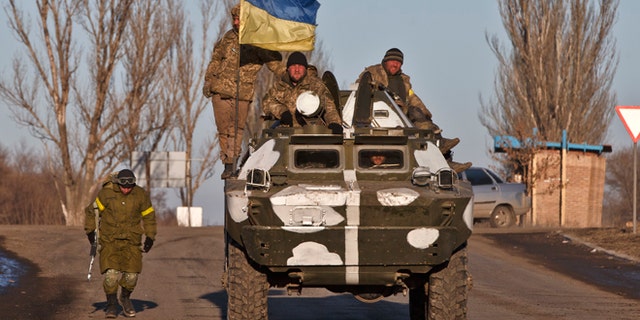 The U.S., Ukraine, and NATO say that Russia has been arming and training the rebels since the conflict began last year. Moscow has repeatedly denied the accusation.
Ukrainian military spokesman Anatoliy Stelmakh said in a televised briefing on Wednesday that the rebels launched five artillery strikes on Debaltseve overnight thus "grossly violating the peace accords."
EU foreign policy chief Federica Mogherini accused the rebels in Debaltseve of acting "in clear violation of the cease-fire."
"Russia and the separatists have to immediately and fully implement the commitments agreed to in Minsk, in line with yesterday's U.N. Security Council resolution, starting with the respect of the cease-fire and the withdrawal of all heavy weapons," Mogherini said in a statement Wednesday.
AP journalists were turned back by rebel forces outside Vuhlehirsk, about six miles west of Debaltseve, early on Wednesday and were unable to assess the status of the fight. Regular artillery fire, coming from the rebel side, was heard in the area.
Rebel leaders said on Wednesday that they have begun the withdrawal of heavy weaponry from the parts of the frontline where the cease-fire holds. Eduard Basurin told Russian Rossiya 1 channel that they are now pulling back five self-propelled guns from Olenivka, south of the rebel stronghold of Donetsk on the road to the government-controlled port of Mariupol.
"This is the first step," Basurin said. "And we're not waiting for Ukraine to start pulling back the weaponry together with us."
Observers from the Organization for Cooperation and Security in Europe, the group responsible for monitoring the cease-fire, have attempted to go to Debaltseve since Sunday but have been blocked by the rebels.
The separatists' Donetsk News Agency on Wednesday quoted rebel official Maxim Leshchenko saying that the OSCE will be allowed to visit Debaltseve "soon" once their forces have finished the operation there.
Fox News' Greg Palkot and The Associated Press contributed to this report.