Portuguese ex-PM elected next UN secretary-general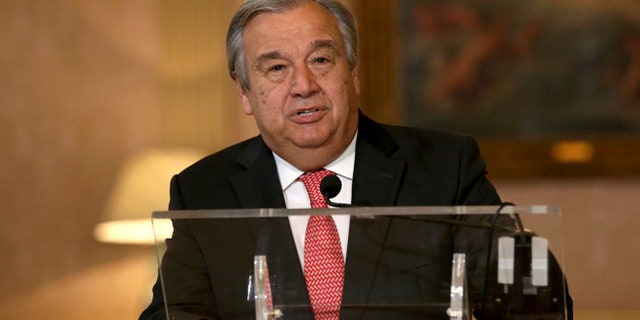 The 193 United Nations member states of the General Assembly on Thursday elected Portugal's former prime minister Antonio Guterres as the next secretary-general of the U.N.
Last week the U.N. Security Council selected Guterres and recommended him to the General Assembly for endorsement after conducting informal polls. Guterres topped all six polls, which included a total of 13 candidates -- seven women and six men.
Guterres, a 67-year-old socialist politician, was Prime Minister of Portugal from 1995-2002 and the U.N. High Commissioner for Refugees from 2005-2015. He will be the ninth secretary-general in the organization's 71-year history.
"I am fully aware of the challenges the U.N. faces and the limitations surrounding the Secretary-General. The dramatic problems of today's complex world can only inspire a humble approach," Guterres responded.
He will succeed the current secretary-general, Ban Ki-moon of South Korea, who was appointed in 2006 and will leave the post at the end of this year.
The new secretary-general will assume the role in January 2017 and will serve a five year term, which can be renewed by U.N. member states for an additional five years.
As FoxNews.com reported, the U.N. Office of Internal Oversight Services reported an "unsatisfactory" assessment of UNHCR governance during Guterres' tenure. And in 2011, the U.N.'s independent Board of Auditors pointed out "significant concerns about important aspects of UNHCR financial, risk and performance management and the difficulties that the Office is encountering in its attempt to put value for money at the heart of its decision-making and operations." In short, Guterres, though a seasoned diplomat who is quite knowledgeable about the inner runnings of the U.N., will start his new job with a questionable record.
Assembly President Peter Thompson introduced Thursday's resolution, said members wanted it approved by acclamation, and banged his gavel in approval as diplomats broke into applause.
Guterres "embodies the highest standards of competence, integrity and leadership," Thompson said.
Guterres' selection disappointed many who had campaigned for the first woman or the first representative from an Eastern European country to lead the world body, but diplomats stressed they were voting for the best candidate regardless of other criteria.
The secretary-general manages a staff of 44,000 people in addition to more than 100,000 peacekeepers. The position's responsibilities include dealing with issues such as human rights, refugees and climate change as well as fund raising for the world body's various campaigns.
Fox News' George Russell, Jonathan Wachtel and The Associated Press contributed to this report.