Portugal fires: Portugal tries to contain fatal fires, probes plane crash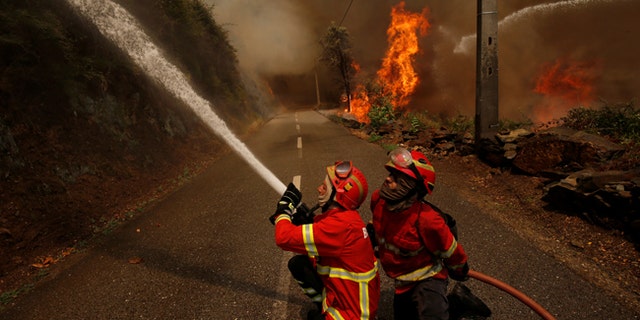 LISBON, Portugal – Emergency services in Portugal said Tuesday they were making headway in controlling a major wildfire that killed 64 people in the central area of the country, but the welcome news came as another blaze nearby grew in size and amid reports that a water-dropping plane had crashed.
The Civil Protection Agency said about 1,200 firefighters and nine water-dropping aircraft were fighting the deadly wildfire in Pedrogao Grande, which was raging for a third consecutive day about 150 kilometers (90 miles) north of Lisbon. Officials said the blaze was mostly contained, though still burning fiercely.
Later in the day, an official with Portugal's Air Accident Office said a Canadair water-dropping plane has crashed in central Portugal while fighting the wildfires. Maria Jose Andre told The Associated Press that the Civil Protection Agency, which is overseeing firefighting operations, informed her office that the plane had crashed.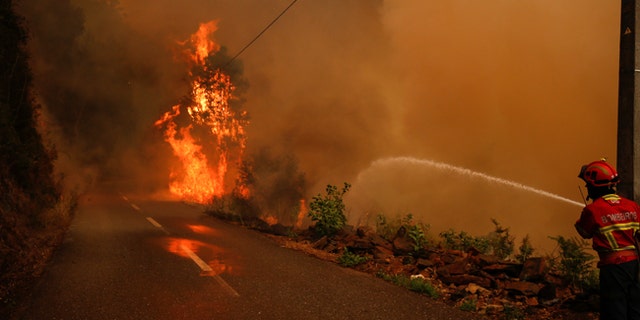 Her office immediately sent a crash investigation team to the area but that she had no details about the plane, its crew or where the crash happened, she said.
Officials with the Portuguese government and the Civil Protection Agency said they could not confirm the crash.
"We are investigating if (the reports) are true," Secretary of State for the Interior Jorge Gomes said.
Civil Protection Agency spokesman Fausto Coutinho says authorities had received reports of a plane crash near where wildfires are raging and dispatched a helicopter to check.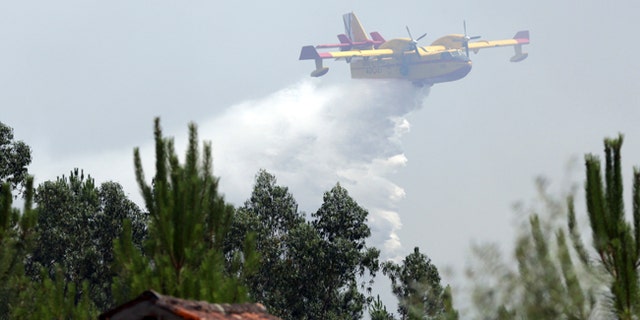 Some firefighting resources were being diverted to Gois, about 20 kilometers from Pedrogao Grande, where almost 800 firefighters and four planes were battling the flames. Commander Vitor Vaz Pinto told reporters said the Gois wildfire was "very fast and very explosive" and had forced the evacuation of 11 hill villages.
Temperatures forecast to reach 43 degrees Celsius (109 Fahrenheit), gusting winds and bone-dry woodland were fueling the blazes, Vaz Pinto said.
Meanwhile, Prime Minister Antonio Costa ordered an investigation into what happened on Saturday night when the deaths occurred, 47 of them on a road as people fled the flames.
Costa's order asked three questions: whether extreme weather could explain the scale of the disaster, why emergency services communications at times didn't work, and why the road where the deaths occurred was not closed.