Pope Francis in Colombia visit urges priests, citizens to welcome sinners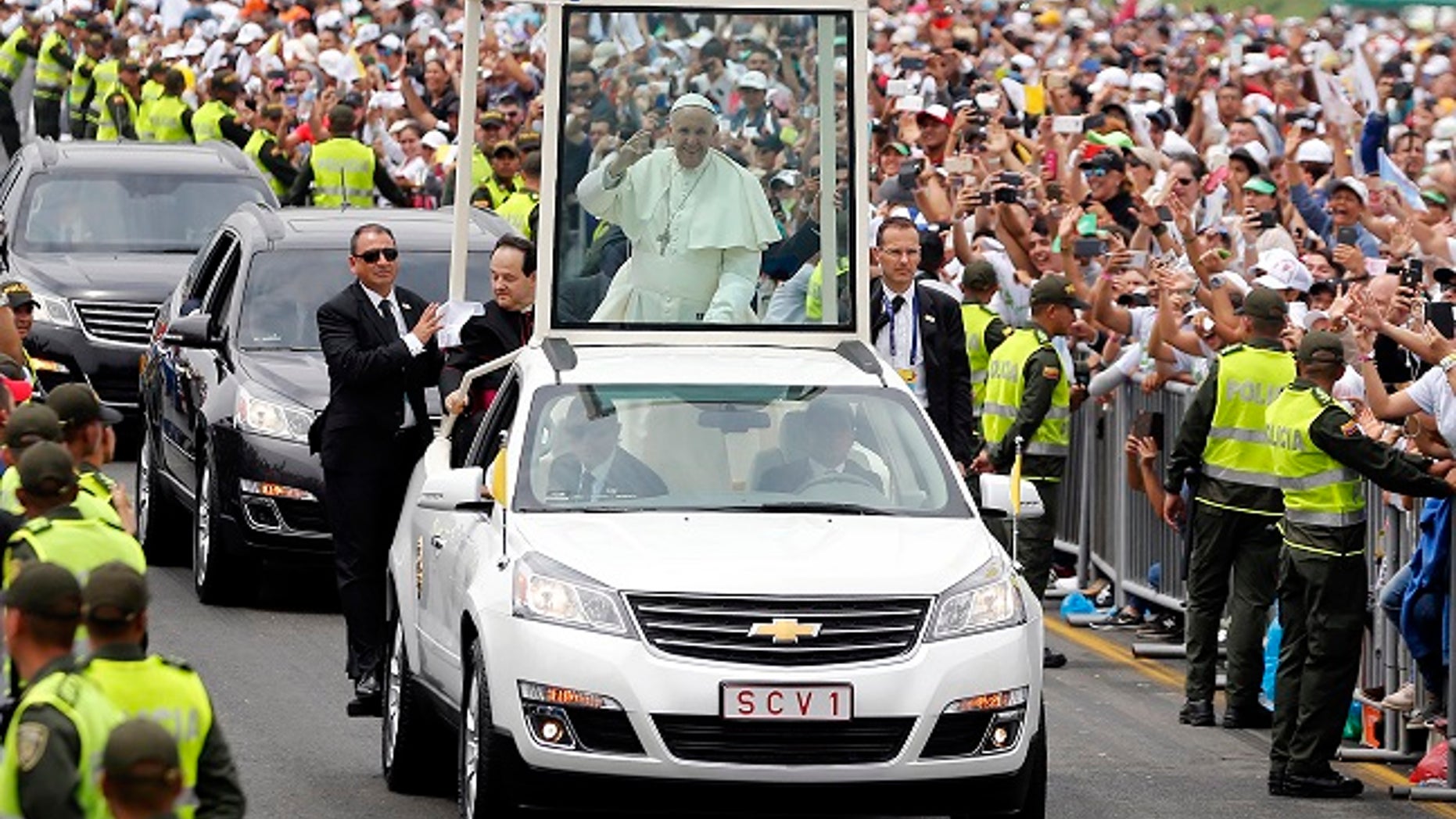 Pope Francis visited Colombia Saturday to console orphans, the poor and sick – and to demand priests and ordinary Colombians look beyond church doctrine to care for sinners and welcome them in.
"My brothers, the church is not a customs post," Francis said. "It wants its doors to be open."
The pontiff had spent the first half of his trip encouraging the country's fragile new peace process.
Heavy rain forced Francis to drive to Colombia's second-largest city instead of taking a helicopter, delaying the mass that was expected to draw as many as 1 million people.
MEXICO REPORTS AT LEAST TWO DEAD FROM HURRICANE KATIA
The pontiff apologized for the delay as he arrived, thanking the crowd for "your patience, perseverance and courage."
At the Mass, Francis urged Colombia's conservative church to look beyond rigid rules and norms of church doctrine to go out and find sinners and minister to them.
"It is of the greatest importance that we who call ourselves disciples not cling to a certain style or to particular practices that cause us to be more like some Pharisees than like Jesus," he said. Those in the early church who stuck so closely to the rules became "paralyzed by a rigorous interpretation and practice of that law," he said.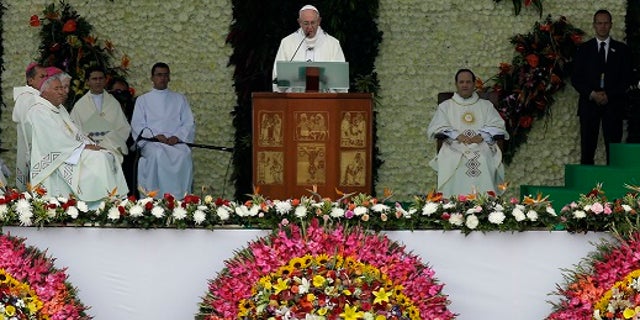 Francis' opening to divorced and civilly remarried Catholics receiving communion has sparked heated criticism from conservatives who note that centuries' long church teaching clearly forbids such couples from receiving sacraments.
In his homily, Francis said that "cold attachment to norms" might bring comfort and assurance to Catholics who need the security of laws, but it belies the Gospel-mandated call to help others who aren't so perfect and need consolation.
URUGUAY VP RESIGNS AMID ALLEGATIONS OF CREDIT-CARD GRAFT
"We cannot be Christians who continually put up 'do not enter' signs, nor can we consider that this space is mine or yours alone," he said. "Everyone has a place, everyone is invited to find here, and among us, his or her nourishment."
After the mass, Francis headed to an orphanage to meet with abandoned children and the sick. He also had a meeting with priests, seminarians, nuns and their families in Medellin's La Macarena stadium before returning to Bogota for the night.
On Sunday, he heads to Cartagena to honor St. Peter Claver, a 17th-century Jesuit who ministered to the tens of thousands of African slaves who arrived in the port to be sold. He returns to Rome on Sunday night.
The Associated Press contributed to this report.