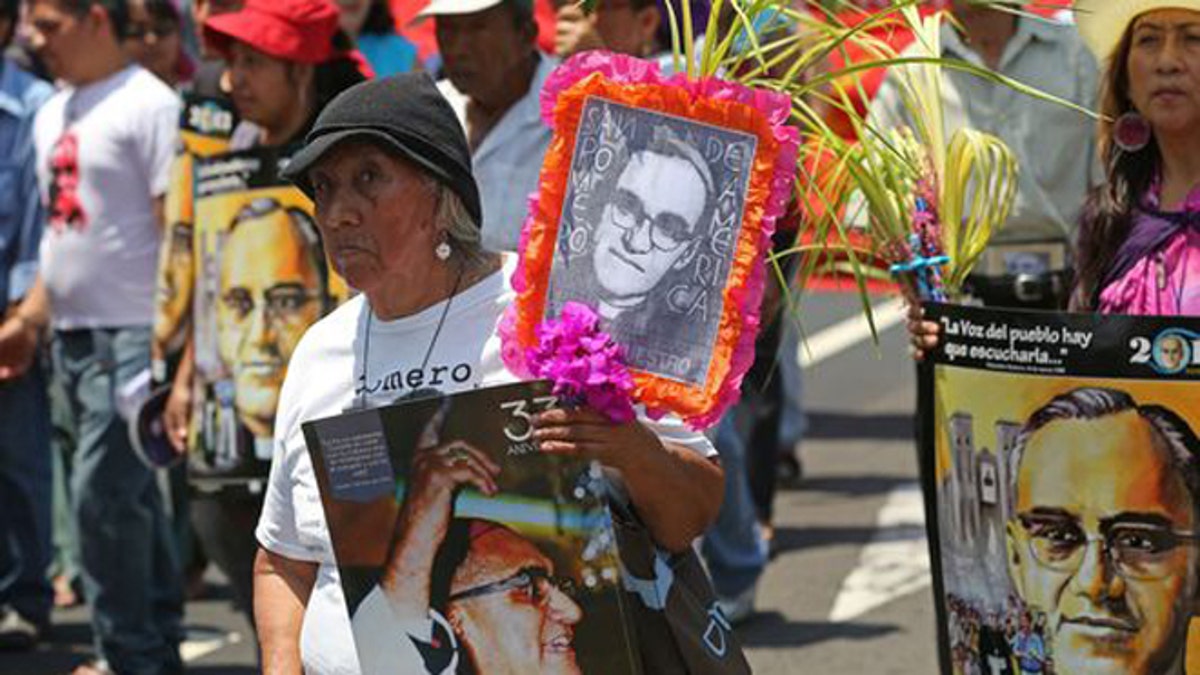 Pope Francis has decreed that slain Salvadoran archbishop Oscar Romero was killed out of hatred for the faith, approving a martyrdom declaration that sets the stage for his beatification.
Francis approved the decree at a meeting Tuesday with the head of the Vatican's saint-making office.
Romero, the archbishop of San Salvador, was gunned down by right-wing death squads in 1980 while celebrating Mass. He had spoken out against repression by the Salvadoran army at the beginning of the country's 1980-1992 civil war between the right-wing government and leftist rebels.
Romero's beatification cause languished under Popes John Paul II and Benedict XVI over the Vatican's opposition to liberation theology, the belief that Christ's teachings justify fights against social injustices.
Both John Paul and Benedict however spoke of Romero as a martyr; such a designation by the Vatican would mean he can be beatified without the Vatican confirming a miracle attributed to his intercession.
Pope Francis "unblocked" the cause soon after being elected
"Pope Francis always had great admiration and total conviction that Romero was a martyr, that he was a saint," Monsignor Gregorio Rosa Chávez, auxiliary bishop of San Salvador said in 2013.
"There is an overwhelming majority of bishops who are in favor of (Romero's) canonization and the Pope knows that this decision brings immense joy for the whole church," he added.
Traditionally, the church has restricted the martyr designation to people who were killed out of hatred for the Catholic faith. Francis said he wanted theologians to study whether those who were killed because of their actions doing God's work could also be considered martyrs.
The decree signed Tuesday by Francis makes clear that Romero was a martyr in the classic sense, killed out of hatred for the faith.
"What I would like is that they clarify when there's a martyrdom for hatred of the faith — for confessing the faith — as well as for doing the work for the other that Jesus commands," Francis said.
Romero is a hero to many Catholics in Latin America.
"This is the best gift they can give us Salvadorans," said Maria Teresa Sanchez, a street vendor in San Salvador said when Pope Francis cleared the way for beatification. "Romero is a saint, and now the Pope is going to ratify that."
No date for the beatification has been set. Francis has all but ruled out celebrating it himself, saying recently that it would be up to the head of the saint-making office, Cardinal Angelo Amato, and the prelate who for decades has spearheaded Romero's cause, Monsignor Vincenzo Paglia, to decide who would get the honor.
Paglia was to meet with reporters Wednesday to discuss the historic case.
Based on reporting by The Associated Press.