Pope Benedict leads open-air Mass for tens of thousands during Mexico visit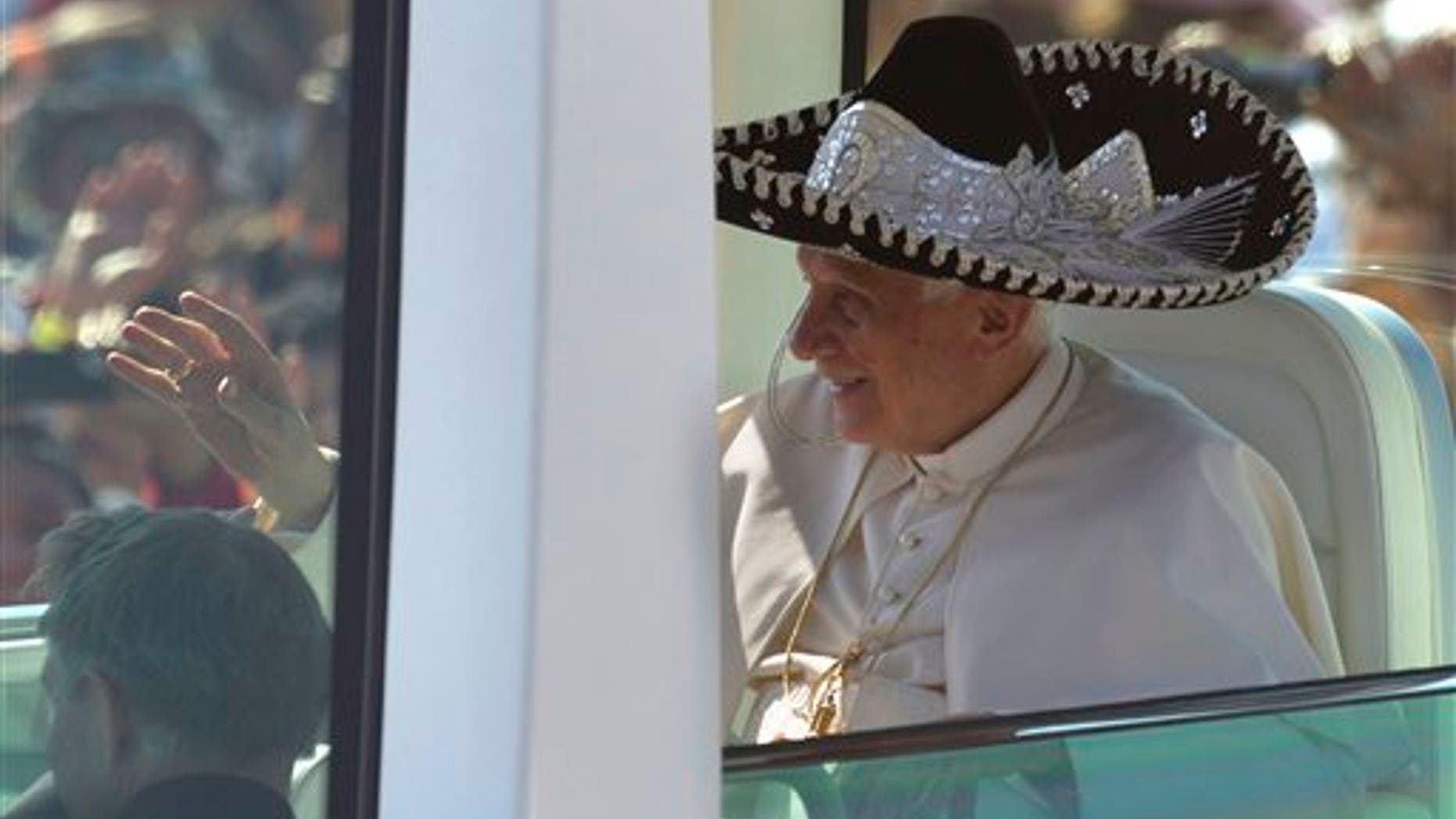 SILAO, Mexico – Tens of thousands of people gathered Sunday to attend the highlight of Pope Benedict XVI's visit to this violence-troubled country: an open-air Mass in the shadow of the Christ the King monument, one of the most important symbols of Mexican Catholicism.
The pope flew over the monument in a Mexican military Superpuma helicopter on his way to the Mass in nearby Bicentennial Park.
Benedict wanted to come to Guanajuato state specifically to see and bless the statue, which Pope John Paul II always wanted to visit but never did, said the Vatican spokesman, the Rev. Federico Lombardi.
The 72-foot (22-meter) bronze monument of Christ with its outstretched arms serves as a potent reminder to Mexicans of the 1926-1929 Roman Catholic uprising against the government and its anti-clerical laws that prohibited public Masses such as the one Benedict will celebrate before an estimated 350,000 people.
The statue "expresses an identity of the Mexican people that contains a whole history in relation to the testimony of faith and those who fought for religious freedom at the time," said Monsignor Victor Rene Rodriguez, secretary general of the Mexican bishops conference.
After nightfall Sunday the pope will remotely inaugurate its new lighting system.
Guanajuato state was the site of some of the key battles of the Cristero War, so-called because its protagonists said they were fighting for Christ the King. Tens of thousands of people died before peace was restored. The region remains Mexico's most conservatively Catholic.
With roads closed, pilgrims walked for miles to the Mass with plastic lawn chairs, water and backpacks. Old women walked with canes. Some Mass-goers wrapped themselves in blankets or beach towel-sized Vatican flags, trekking past vendors selling sun hats, flags, potato chips and bottles of juice.
Hundreds of young priests in white and black cassocks, waiting to pass through the metal detectors, shouted "Christ Lives!" and "Long Live Christ the King!" -- the battle cry of the Cristeros.
On Saturday, Benedict met with President Felipe Calderon in Guanajuato city and later told about 4,000 children massed in the colonial-era city's Peace Plaza that they are each a "gift of God to Mexico and the world."
"The disciple of Jesus does not respond to evil with evil, but is always an instrument of good instead, a herald of pardon, a bearer of happiness, a servant of unity," Benedict said. "I will pray for all of you, so that Mexico may be a place in which everyone can live in serenity and harmony."
He called on the young to be messengers of peace in a country traumatized by the deaths of more than 47,000 people in a drug war that has escalated during a government offensive against cartels.
Eight relatives of victims of violent crime were invited to meet the pope as he left Guanajuato's government palace, Calderon's office said. Lombardi noted it wasn't a sit-down meeting so much as a brief greeting.
While the pope drew a rapturous response from the faithful, his second day in Mexico was not without criticism, particularly concerning the church's treatment of children and sexual abuse.
Victims of Marcial Maciel, the founder of the Legionaries of Christ, launched a book Saturday containing documents from the Vatican archives showing that Holy See officials knew for decades that Maciel was a drug addict who sexually abused his seminarians.
Alberto Athie, former priest and one of three co-authors of "The Desire Not to Know," called on Benedict to publicly recognize the church's responsibility for Maciel's abuse.
"The church won't fall. On the contrary, it will be reconstructed," Athie said.
The 84-year-old pope, who will be going to Cuba on Monday, did not directly address the scandal during his limited remarks Saturday. But Lombardi said his words about the need to protect children from violence referred also to the need to protect them from priestly sexual violence.
Lombardi insisted that neither Benedict nor John Paul covered up for Maciel as the book alleges. Benedict, when he was Cardinal Joseph Ratzinger, headed the office that received the sex abuse complaint from Maciel's victims in 1998; it took the Congregation for the Doctrine of the Faith eight years to sentence Maciel to a lifetime of penance and prayer.
"I have to say that both popes were men, men of truth and transparency," Lombardi said. "I think it's truly unjust to consider Pope Benedict as someone who worked against the truth and transparency."
Benedict has taken up John Paul's drive to reach out to young Catholics, rallying millions of young faithful to join him for World Youth Days, the Catholic youth festivals held once every three years. And he has made the young a focus of his trip to Mexico.
That fits with the Vatican's drive to re-evangelize parts of the world where Catholicism has weakened, trying to rally the next generation to embrace a faith that their parents may have abandoned. While Europe has been Benedict's focus to date, Mexico also has seen its number of Catholics fall.
"The Mexican church feels like it's lost a few generations of Catholics," said Joseph Palacios, a professor of Latin American studies at Georgetown University, citing the battles over liberation theology that drove many left-leaning Catholics away. To get back its numbers, the Mexican church is "moving forward with the new generation," he said.
Tens of thousands, many of them teenagers, on Saturday watched the pope's remarks on big screen televisions set up in a pilgrim camp at the site of the papal Mass planned for Sunday. The atmosphere was like a rock concert as the TVs showed the pope emerging on a balcony in Guanajuato, with campers letting go a roaring chant of "Benedicto, Benedicto."
"We young people are getting closer to the church and to God, instead of getting closer to drugs and violence," said Juan Daniel Pacheco, 18, of Apaseo el Grande in Guanajuato state as he sought shade with his friends at one of the campgrounds that were quickly filling with faithful arriving for Sunday's Mass. "We are young people who will be able to change Mexico."
Of the 43.5 million Mexicans under age 20, 36.2 million are Catholic, or 83.2 percent, just under the national average. The largest group of Mexicans overall are children aged 5 to 9 -- a prime target for Benedict's efforts to rebuild a church that has fallen victim to the same secular trends that have emptied churches across Europe.
At the entrance to Guanajuato, Benedict received the keys to the city and then traveled by popemobile past faithful crowded along the cobblestone streets of the historic colonial-era city.
People packed narrow streets, balconies and rooftops and cheered wildly even as it started to sprinkle. Children and teenagers ran through crowds as Benedict passed to catch another glimpse of him. At one point, someone handed him a baby through an open window of the bulletproof popemobile. He kissed the baby and an aide passed the child back.
A group of 13 indigenous teenage girls traveled for 20 hours cramped in a van from northern Mexico just to see the pope officiate Sunday's Mass. Once in Guanajuato, the Tarahumara got an invitation from the office of Mexico's first lady, Margarita Zavala, to be in the crowd standing right beneath the balcony where Benedict gave his message to Mexico's youth.
The girls, aged 12 to 17, spent three days sewing their traditional dresses for the pope's visit.
Sister Sanjuana Oliva Briones, a Tarahumara Indian who led the group, said the girls were excited and happy with the experience.
"For many it is the first time they have been to a city. Others understand little Spanish," she said.