Police Open Fire on Protesters in Congo, Killing At Least One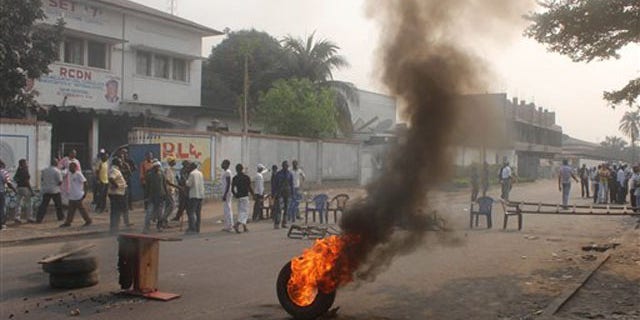 KINSHASA – Police opened fire Tuesday on opposition protesters and at least one person was killed, officials said of pre-election violence in Congo's capital of Kinshasa.
Tuesday's shooting followed what appeared to be tit-for-tat attacks on party offices.
The United Nations mission in Congo condemned "the wave of violent incidents ... not only in Kinshasa but across the country."
On Monday, supporters of leading opposition presidential candidate Etienne Tshisekedi ransacked the headquarters of President Joseph Kabila's party and set six private cars ablaze, Interior Minister Adolphe Lumanu told reporters.
"They're afraid of elections," legislator Francis Kalombo, head of the presidential party's youth league, said on Radio Top Congo.
At about 2 a.m. Tuesday, attackers looted and ransacked Tshisekedi's headquarters in Kinshasa.
Twelve people were seriously injured in that violence, Lumanu said.
Around the same time, unidentified gunmen set ablaze independent RLTV station, forcing it off the air. Radio Lisanga Television also stopped broadcasting in March when the government blocked its signal, charging its pro-Tshisekedi programs were "promoting violence."
"A group of armed men scaled the wall, sprayed fuel and set everything on fire. We have lost all our equipment, we can't broadcast today," said RLTV promoter Roger Lumbala.
Protesters who started burning tires and blocking the street outside the TV station were quickly dispersed by police.
A larger crowd gathered outside Tshisekedi's party headquarters later Tuesday morning. When they refused to stop protesting, police opened fire.
"In the ensuing scuffles, sadly, one man was killed," Lumanu said.
A doctor at Bondeko Clinic said a man with gunshot wounds was dead on arrival at the hospital.
He spoke on condition of anonymity for fear of reprisals.
Lumanu condemned the violence and said the "arrested delinquents and their silent partners" would be prosecuted and punished.
The rights group Voice of the Voiceless condemned the violence and suppression of a protest. It called for an independent inquiry and for those responsible for the repression to be brought to justice.
Congo is holding presidential and legislative elections in November, only the second multiparty vote in more than 40 years and a crucial indicator of whether democracy is taking hold in the sprawling Central African nation of 68 million people that suffered back-to-back civil wars that ended in 2003.
The U.N. mission called for peaceful dialogue and restraint against "any act that could jeopardize the smooth operation of the elections."
It also urged authorities to guarantee freedom of expression.
There are some 19,000 U.N. peacekeepers in Congo based mainly in the mineral-rich and conflict-plagued east of the country who are helping with logistics and security for the elections.