Poisoned former Russian spy Sergei Skripal no longer in critical condition, hospital says
NEWYou can now listen to Fox News articles!
Sergei Skripal, the former Russian spy who was poisoned in the UK last month, is no longer in critical condition and is responding to treatment, Salisbury District Hospital said Friday.
Hospital officials said Skripal is "responding well to treatment" and is "improving rapidly," Sky News reported.
The BBC reported Skripal was conscious and speaking.
Skripal, 66, along with his daughter, Yulia Skripal, 33, were poisoned with novichok, a Soviet-engineered nerve agent, in the southwestern city of Salisbury on March 4. The two were found unconscious on a public bench before being transported and treated at Salisbury District Hospital.
On Thursday, the Metropolitan Police released a statement by Yulia Skripal, who said her "strength is growing daily" and she is grateful for the interest shown in her case. She said she woke up over a week ago following the poisoning.
EX-RUSSIAN SPY'S DAUGHTER SAYS HER 'STRENGTH IS GROWING DAILY' AFTER NERVE AGENT POISONING
"I am grateful for the interest in me and for the many messages of goodwill that I have received," she said. "I have many people to thank for my recovery and would especially like to mention the people of Salisbury that came to my aid when my father and I were incapacitated. Further than that, I would like to thank the staff at Salisbury District Hospital for their care and professionalism."
Yulia called the attack "somewhat disorientating" and asked for her family's privacy.
Britain blamed Russia for the attack while Moscow denied all allegations. In response, more than two dozen Western allies, including the U.S., ordered out over 150 Russian diplomats in a show of solidarity. In response, Russia ordered out 60 U.S. diplomats and closed the consulate in St. Petersburg in a tit-for-tat response.
Around the same time Skripal's improved condition was announced, the U.S. Treasury Department announced it was punishing seven Russian oligarchs and 17 Russian government officials with sanctions for what the U.S. called Russia's "malign activity" around the world.
EX-RUSSIAN SPY SERGEI SKRIPAL ALLEGEDLY POISONED: WHAT TO KNOW
Skripal served with Russia's military intelligence agency, often known by its Russian-language acronym GRU, and retired in 1999. He then worked at the Foreign Ministry until 2003, and later became involved in business.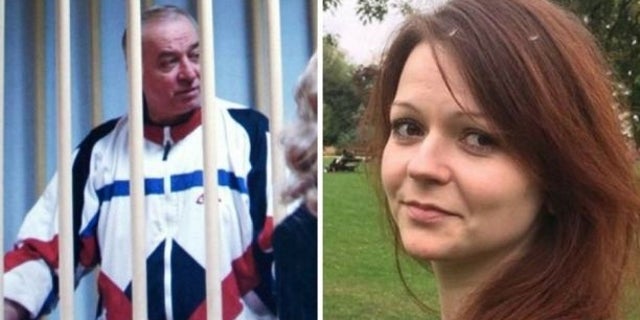 Skripal was arrested in 2004 in Moscow and later confessed to having been recruited by British intelligence in 1995. He also said at the time that he provided information about GRU agents in Europe, receiving over $100,000 in return.
At the time of Skripal's trial, the Russian media quoted the FSB domestic security agency as saying that the damage from his activities could be compared to harm inflicted by Oleg Penkovsky, a GRU colonel who spied for the United States and Britain. Penkovsky was executed in 1963.
In 2006, Skripal was convicted on charges of spying for Britain and sentenced to 13 years. However, he later was pardoned and released from custody in July 2010 as part of a U.S.-Russian spy swap, which followed the exposure of a ring of Russian sleeper agents in the U.S.
Skripal's wife and son have both died in recent years.
The Associated Press contributed to this report.