Pistorius Accusers Display Photos Showing Blood Stains All Over The House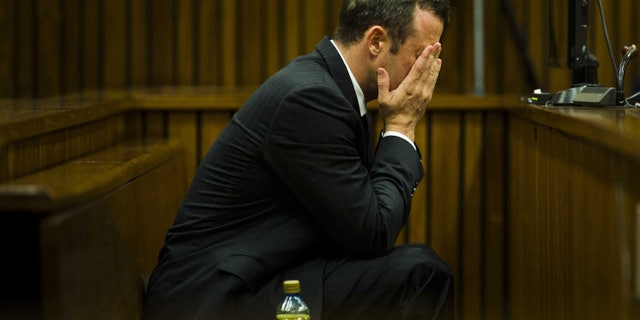 PRETORIA, South Africa (AP) – Prosecutors in the Oscar Pistorius murder trial on Thursday displayed a sequence of photos showing the blood stains and blood spatter found on the floors, walls, stairs and chairs in the athlete's house after he fatally shot his girlfriend.
In one photograph displayed on TV monitors in the courtroom, spots of blood were seen right next to some of the double-amputee Olympian and multiple Paralympic champion's golden trophies. The TV screen next to Pistorius, who at times held his head in his hands, was switched off during the display.
The images were described by G.S. van Rensburg, a former police colonel who testified at the trial as one of the two officers first on the scene after Pistorius killed Reeva Steenkamp on Valentine's Day last year by shooting her through a closed toilet door in his home.
Pistorius, 27, has said he shot 29-year-old Steenkamp by mistake, fearing there was a dangerous intruder in the house. The prosecution says he intentionally killed her after an argument.
Van Rensburg described how, on arriving at Pistorius' house, he saw Steenkamp's body covered in towels and plastic bags that the daughter of the estate administrator said she had used, with assistance from Pistorius, to try and stop the bleeding.
A tearful Pistorius was pacing in the kitchen, van Rensburg said. The policeman said he asked the athlete what had happened, but he didn't answer. Van Rensburg said he asked Pistorius to stay in one area of the kitchen, which he did.
Police investigator Hilton Botha also arrived at the home, where bloodstains were visible in many areas, according to van Rensburg.
"We then followed the trail of blood up the stairs," van Rensburg said as chief prosecutor Gerrie Nel led him slowly through the sequence of events that night.
Earlier, a photograph of Pistorius' blood-stained prosthetic legs was used by his chief defense lawyer to attempt to show that the athlete was wearing them, as he says, when he broke down a toilet door with a cricket bat to get to the girlfriend he fatally shot.
The image, showing the prosthetic limbs with white socks and stained with Steenkamp's blood up to the knee, was displayed by lawyer Barry Roux on a TV monitor. Roux was trying to reinforce the Olympian's story that he shot the model by mistake on Feb. 14, 2013 and then desperately broke through a locked toilet door to help her.
The prosecution has attempted to cast doubt on parts of Pistorius' story, including, specifically, that he was wearing his legs when he broke through the toilet door with his bat.
Pistorius faces a possible life sentence in prison if convicted. He has pleaded not guilty to charges of murder and three firearm-related offenses.
Follow us on twitter.com/foxnewslatino
Like us at facebook.com/foxnewslatino