Philippine leader Duterte vows to 'eat' ISIS members alive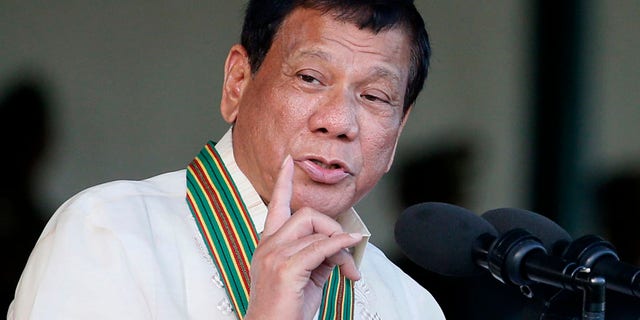 NEWYou can now listen to Fox News articles!
Filipino President Rodrigo Duterte has warned ISIS extremists he will "eat their livers" if they are captured by his troops.
The outspoken president, 71, who has boasted about killing criminals, made the comments during the opening of a national sports tournament in Laos on Sunday.
It comes after he ordered troops to kill fleeing jihadists behind a foiled terror attack in Bohol – a popular tourist destination – calling the Islamic extremists "animals."
Several Philippine soldiers, two civilians, and at least four militants including an alleged leader of the terror group Abu Sayyaf were killed in clashes on Tuesday – before terrorists could carry out a kidnapping and bombing plot.
Duterte warned: "If you want me to be an animal, I'm also used to that. We're just the same. I can dish out, go down what you can 50 times over."
He then threatened to "eat" organs of members of the Islamist militants that operated in his country.
Addressing the crowd, Duterte said: "Just drive me to extreme anger, and I can eat a person. Give me salt and vinegar and I'll eat his liver."
"You know, I am capable of eating a person. If you anger me, in truth, I will eat you alive. Raw."