Peruvians vote in presidential race influenced by legacy of ex-President Fujimori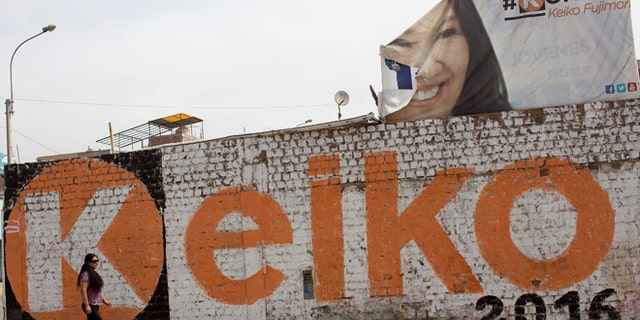 NEWYou can now listen to Fox News articles!
LIMA, Peru (AP) – Peruvians were choosing between two conservative candidates in a tight presidential election on Sunday that has become a referendum on the legacy of imprisoned ex-President Alberto Fujimori's iron-handed rule in the 1990s.
Recent polls showed former World Bank economist Pedro Pablo Kuczynski having erased the lead held by his better-organized and politically sharper opponent, Keiko Fujimori, the daughter of Peru's former strongman.
A mock voting exercise Saturday by Lima-based Gfk put support for Kuczynski at 51 percent compared with 49 percent for Fujimori. With a margin for error in the survey of plus or minus 1.6 percentage points, it was still a statistical tie but a far better standing for Kuczynski than a week ago, when he was trailing by more than 4 points. Fujimori topped him in the first round of voting by almost 20 points.
A potential swing vote in a close race could be the 885,000 Peruvians eligible to vote abroad — about 3.8 percent of the electorate.
Many had already cast ballots at embassies and consulates worldwide as voting began in Peru.
The 77-year-old Kuczynski, who supported Keiko Fujimori in the 2011 runoff won by outgoing President Ollanta Humala, has narrowed the gap by abandoning his above-the-fray, grandfatherly appeal and hitting Fujimori hard.
"Peru is on the threshold of becoming a narco-state," he told supporters at his closing campaign rally in Lima.
The reference wasn't just to her father's well-known ties to corruption, organized crime and death squads, for which he's serving a 25-year jail sentence, but an attempt to draw attention to a string of scandals that have hobbled Fujimori in the final stretch, most notably a report that one of her big fundraisers and the secretary general of her party is the target of a U.S. Drug Enforcement Administration investigation. Peru is the world's largest producer of cocaine.
Her running mate, Jose Chlimper, is also in hot water for orchestrating the broadcast of a doctored audio tape in an attempt to clear the name of the party boss.
"If Fujimori wins the big question is whether she'll be able to control her party," said Eduardo Dargent, a political scientist at Lima's Catholic University.
PPK, as Kuczynski is almost universally known in Peru, is also benefiting from a last-minute endorsement by the third-place finisher in the first round of voting, leftist congresswoman Veronika Mendoza, the protagonist of a massive anti-Fujimori demonstration this week the likes of which Peru hasn't seen since the turbulent end of Fujimori's rule 16 years ago.
Fujimori, who served as first lady in her father's administration after her parents' divorce, has tried to contain her rival's rise by taking distance from her father's crimes, even signing a pledge not to pardon him if elected.
"I'm the candidate, not my father," she has frequently repeated.
At the same time, she's vowed to bring back the "iron hand" style of government for which many still revere the elder Fujimori, who is credited with taming Maoist Shining Path rebels as well as the country's hyperinflation. Instead of rebels, Keiko Fujimori is promising to wield an iron fist against crime, a top voter concern. Among her proposals: build jails in high-altitude prisons in the Andes to punish and isolate dangerous criminals.
She's also trying to cast her rival, the son of a Jewish-Polish immigrant who is married to an American and spent decades in business outside Peru, as part of the white elite establishment that has traditionally overlooked the needs of the poor.
Regardless of who wins, Keiko Fujimori has already reshaped Peru's political landscape.
In April, her Popular Force party won 73 of 130 seats in the unicameral congress, setting Fujimori up to be the first president since her father in the 1990s to govern with a legislative majority — something her detractors cite as a risk to Peru's already-weak system of checks and balances.