Peru prosecutors raid offices of Keiko Fujimori's party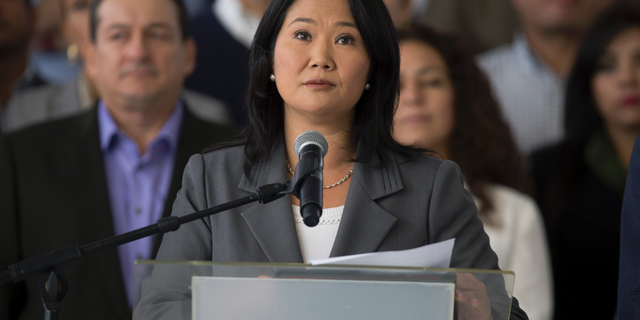 LIMA, Peru – Prosecutors raided two offices of Peru's main opposition party on Thursday as part of an investigation of alleged money laundering by the campaign of losing presidential candidate Keiko Fujimori.
At the same time as authorities raided the Popular Force offices in the north and center of Peru's capital, Fujimori voluntarily entered the Attorney General's Office to meet with officials.
The deputy secretary of Popular Force, Jose Chlimper, said "our accounting books are in the prosecutor's office ... they are reviewing them page by page at this moment."
Peruvian prosecutors opened a money laundering investigation into Fujimori's 2011 and 2016 electoral campaigns after seeing a note written by Marcelo Odebrecht, head of a Brazilian construction mega-company at the center of a continent-wide corruption scandal. The note found in Odebrecht's cellphone said "increase Keiko to 500 and pay a visit."
President Pedro Pablo Kuczynski, who beat Fujimori in the 2016 election, said the raids took him by surprise and suggested they did not respect due process.
"It worried me that I read in the news that there was a raid this morning in Lima on the offices of the political party that dominates Congress. And I am not saying this to ingratiate myself with Congress, I say it because if there is no due process we will not be respected internationally," Kuczynski said.
Peru's legislature is dominated by Fujimori's supporters. She is the daughter of imprisoned former strongman Alberto Fujimori, who governed Peru for a decade until 2000.
Authorities across Latin America have been moving fast to charge officials accused of taking some $800 million in bribes from Odebrecht. The company acknowledged the bribes when it signed a plea agreement last year with the U.S. Justice Department. The bribes include some $29 million paid in Peru for projects built during the administrations of President Alejandro Toledo and two of his successors.
Corruption allegations have hit all of Peru's presidents between 2001 and 2016. There is an international capture order out for Toledo, Alan Garcia (2006-2011) is under investigation for bribery and Ollanta Humala (2011-2016) is in prison provisionally for 18 months