Pentagon updates Niger ambush timeline, says US troops called for air support hour after attack
Amid immense speculation surrounding the ambush in Niger earlier this month that left four U.S. troops dead, a top U.S. general addressed the ambush's timeline and provided new details on the attack.
Gen. Joseph Dunford, Chairman of the Joint Chiefs of Staff, acknowledged Monday at the Pentagon that details on the attack have not been forthcoming, and said the four servicemen who died on Oct. 4 passed during a "complex situation" and a "difficult firefight."
On Oct. 3, a 12-member American team accompanied 30 Nigerien forces — reportedly in unarmored trucks — to an area approximately 52 miles north of the capital, Niamey.
Upon their return on Oct. 4, the team was reportedly ambushed by about 50 ISIS-affiliated militants traveling by vehicle, carrying small arms and rocket-propelled grenade launchers.
NIGER ATTACK LEAVES 4 US SOLDIERS DEAD: WHAT TO KNOW
The attack left four U.S. servicemen and approximately 10 Nigerien troops dead.
"They did not expect resistance on this patrol when they first planned it," Dunford said. He also pushed back on reports that the Special Operations team was lured into the ambush, which he said lasted "several hours."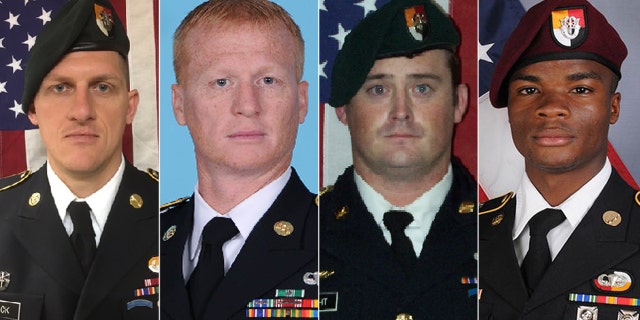 It wasn't until one hour into the ambush that the team called for air support. It took two French Mirage fighter jets 30 minutes to respond to the request, and the jets weren't overhead until two hours after the battle began.
The bodies of three Americans who were killed were transported from the battle scene, but Sgt. La David Johnson's body wasn't recovered until Oct. 6 — a full two days later — by Nigerien forces, who transferred Johnson's body to the U.S. military.
The Pentagon requested "national assets" from the U.S. government "once we found out Sgt. Johnson was missing," Dunford said.
No drones were overhead when the servicemen were attacked, but Dunford said a drone was sent overhead "within minutes." The general added that U.S. troops only accompany local forces when contact with the enemy is "unlikely."
NIGER AMBUSH DETAILS SCARCE AS MCCAIN SUGGESTS NEED FOR SUBPOENA
Dunford, when asked if the U.S. would respond to those responsible for the ambush, said the U.S. would "enable local partners to go after them."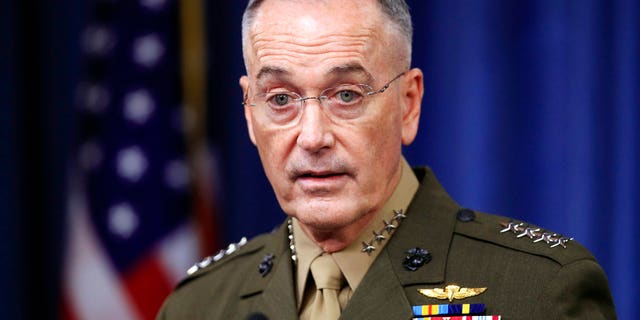 Three weeks after the attack, Dunford said the military still needs to investigate several matters, including: whether the U.S. had adequate intelligence and equipment for its operation, whether there was a planning failure and why it took so long to recover Sgt. Johnson's body.
U.S. forces have been in Niger for more than 20 years and a joint special operations task force was created by the U.S. in 2008.
In 2011, U.S. and French forces set up a counterterrorism force in the country, led by the French, with 4,000 troops and 35,000 Nigerien troops. There are now 800 U.S. troops in Niger and 6,000 U.S. troops within 53 countries in Africa, Dunford said.
Fox News' Nicole Darrah, Lucas Tomlinson and The Associated Press contributed to this report.