Patent scandal: Secret probe of top UN official completed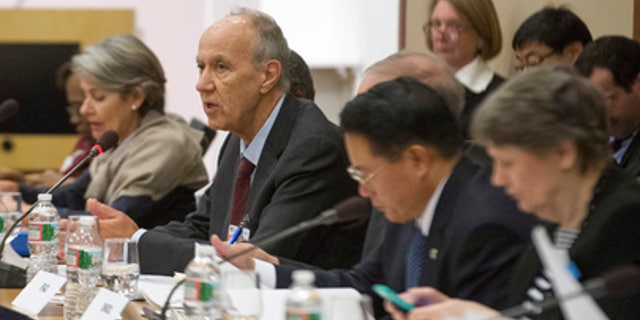 NEWYou can now listen to Fox News articles!
EXCLUSIVE: United Nations investigators have concluded a long and secretive probe into charges that the head of the U.N.'s World Intellectual Property Organization ordered illegal break-ins of the offices of his own staffers, who he suspected had written anonymous letters against him.
What the watchdogs decided at the end of their nine-month investigation into the alleged actions back in 2008 of Francis Gurry, director general of the Geneva-based organization known by its acronym as WIPO, is still not known.
The bulky report awaits its reception by the 188 nations, including the U.S., who belong to a little-known but important U.N. body that is responsible for safeguarding and allowing access to the world's patent system -- the crown jewels of the 21st century economy.
(The U.S. is by far the largest contributor to WIPO's patent storehouse.)
A spokesperson for the U.S. State Department Wednesday gave guarded confirmation of the probe's completion, and declared that "the United States strongly supports this investigation and looks forward to learning of its findings."
The spokesperson added that the U.S. "trusts" that the formal recipient of the document -- Gabriel Duque, a Colombian diplomat who is the current chair of WIPO's General Assemblies, the organization's chief policymaking body -- would "review the report and inform member states in an appropriate manner."
Whether "appropriate" means "public" is another question. Ambassador Duque had not responded to questions asked by Fox News on Tuesday about his receipt of the report and what would happen to it next before this story was published.
Likewise, Director General Gurry had not responded to Fox News' questions prior to this story's publication about his official rebuttal to the report.
The Gurry probe and its outcome promise to bring closure to only one chapter, albeit perhaps the most important, in a bizarre saga of controversy that has surrounded WIPO's director general starting before his election to office in October 2008.
In addition to the alleged break-ins, Gurry's tenure in office has included, among other things that ruffled the feathers of important WIPO member-states:
        unannounced WIPO shipments of sophisticated U.S.-made computers and servers to North Korea and Iran, both under U.N. sanctions at the time for their illegal nuclear bomb-making activities;
         the unannounced and apparently impromptu opening by Gurry of new patent offices for WIPO in Russia and China;
         the unprecedented -- but largely symbolic -- withholding of U.S. funds for WIPO to protest his treatment of internal whistleblowers who pointed the finger at his actions. 
        management practices that failed to include the oversight mechanisms of other U.N. agencies, and a penchant for keeping member states -- who supposedly control WIPO -- in the dark about the meetings of top officials.
In 2012, an investigative committee picked by Gurry himself declared that his computer shipments to North Korea and Iran did not violate the U.N.'s sanctions regime. But the committee also said they found "inexplicable" and "unfathomable" WIPO's decision to provide the sensitive equipment shipments without informing the U.N.'s committees that monitored sanctions against the two countries.
The whistleblowing charges against Gurry also hark back indirectly to the long-ago alleged break-ins. They were laid by one of his top deputies, James Pooley, after he blew the whistle in April 2014 on the earlier alleged burglaries and called them "violations of national and international law."
At the time, Pooley called for Gurry's suspension pending an independent investigation. Gurry denied the charges, calling them "without foundation."
Pooley, then head of WIPO's Innovation and Technology branch, also laid a still-confidential retaliation complaint against Gurry.
It took another year before the current investigation, by the U.N.'s Office of Internal Oversight Services in New York, got under way -- in part because the head of WIPO's own investigation unit reported in part to Gurry.
In fact, Pooley was echoing accusations that had been put forward years earlier by other former WIPO staffers at U.N. internal justice tribunals, but which had led to no outcome.
The accusations also had been taken up by Miranda Brown, a former Australian government official who served as a senior adviser to Gurry.
She reported his alleged role in illegal DNA collection in 2012. Brown told Fox News last year that she had been forced to leave WIPO after reporting the alleged actions "due to lack of whistle-blower protection."
Shortly thereafter, the State Department levied its own first-ever sanctions on WIPO for a similar reason.
The WIPO staffers allegedly victimized by Gurry had also left the agency. They became embroiled in the alleged break-ins after anonymous letters circulated that made vague charges of financial impropriety against Gurry and his wife, in advance of his initial election as WIPO chief.
The DNA evidence collected against the staffers formed part of the tests subsequently performed by Swiss police on the staffers -- their diplomatic immunity was temporarily lifted to let that happen -- to determine their guilt or innocence in the letter-writing episode. They were cleared of being involved.
And it was when the staffers discovered mention of the DNA samples in testing paperwork that they said they realized it had come from illegal entry of their offices.
In the State Department spokesman's statement to Fox News this week about the just-completed probe, he underlined that "the U.S. takes whistleblower protection very seriously."
"We have been working tirelessly," he added, "to ensure that United Nations organizations effectively implement and enforce whistleblower protection policy and other transparency and accountability measures."
How true that holds may well depend on what the undisclosed investigation of Gurry says -- and what it recommends be done as a result.
Said Pooley to Fox News: "My only goal was that the members of WIPO get the facts so that they can decide what to do. If the investigation has now been completed, then it's time to get the report in front of them."
George Russell is editor-at-large of Fox News and can be found on Twitter: @GeorgeRussell or on Facebook.com/GeorgeRussell