Passenger jet crashes into water in Micronesia: report
Everyone flying aboard an Air Niugini plane that crash-landed in the water early Friday in the Federated States of Micronesia (FSM) has survived, officials said.
The incident occurred in Chuuk, an official with the country's Division of Civil Aviation told RNZ Pacific.
TWO DEAD AFTER JET RUNS OFF SOUTH CAROLINA RUNWAY
The Boeing 737-800 plane crashed in the lagoon short of the runway as it was landing.
"It was supposed to land but instead of landing it was 150 yards short and she went down," Jimmy Emilio, general manager of Chuuk Airport at Weno in Micronesia, told Reuters.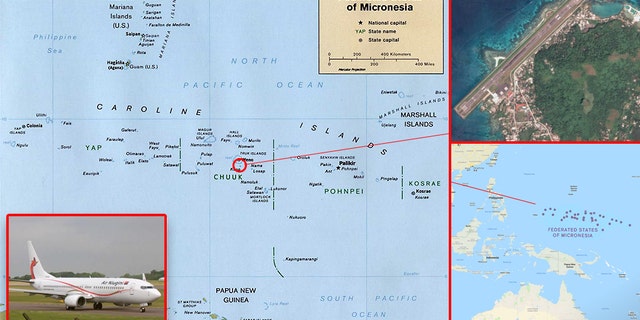 An official with the airport told RNZ Pacific 36 passengers and 11 flight crew members were onboard the aircraft. Everyone onboard was able to safely evacuate the aircraft.
Passengers and crew members were taken to a hospital, but no one suffered serious injury, according to Emilio.
Only the top half of the plane was visible in a photo obtained by RNZ Pacific, and small boats boarded with people were scattered around it.
BEES SWARM AIRPLANE ENGINE AT SOUTH AFRICAN AIRPORT, DELAY MULTIPLE FLIGHTS
The aircraft was enroute to Port Moresby in Papua New Guinea, the outlet reported.
Investigators were expected to fly to the scene to look in to the accident, a spokesman for Papua New Guinea's Accident Investigation Commission told RNZ.
Fox News' Stephen Sorace and the Associated Press contributed to this report.