Paris' Sacre Coeur basilica defaced with spray-painted graffiti denouncing state, church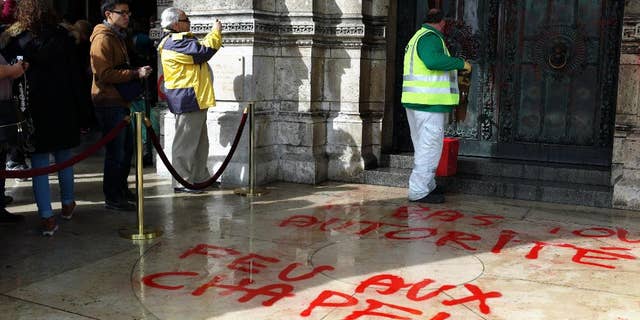 PARIS – France's interior minister says unknown vandals spray-painted graffiti on Sacre Coeur basilica in Paris.
Interior Minister Manuel Valls on Wednesday condemned the anti-church and anti-state vandalism on the entrance door, walls and floor overnight Monday to Tuesday. Clean-up crews were deployed to erase the words.
The Sacre Coeur, or Sacred Heart, basilica offers eye-popping views of Paris atop the trendy Montmartre neighborhood. Millions of visitors trek there each year.
Consecrated in 1919, Sacre Coeur was approved as a project by the government decades earlier in an effort to restore moral values following the ill-fated Paris Commune revolt of 1871 in which thousands died.
Valls says authorities are working to identify and arrest the vandals.