Parents of Missing Girl with Leukemia Speak Out, May Face Charges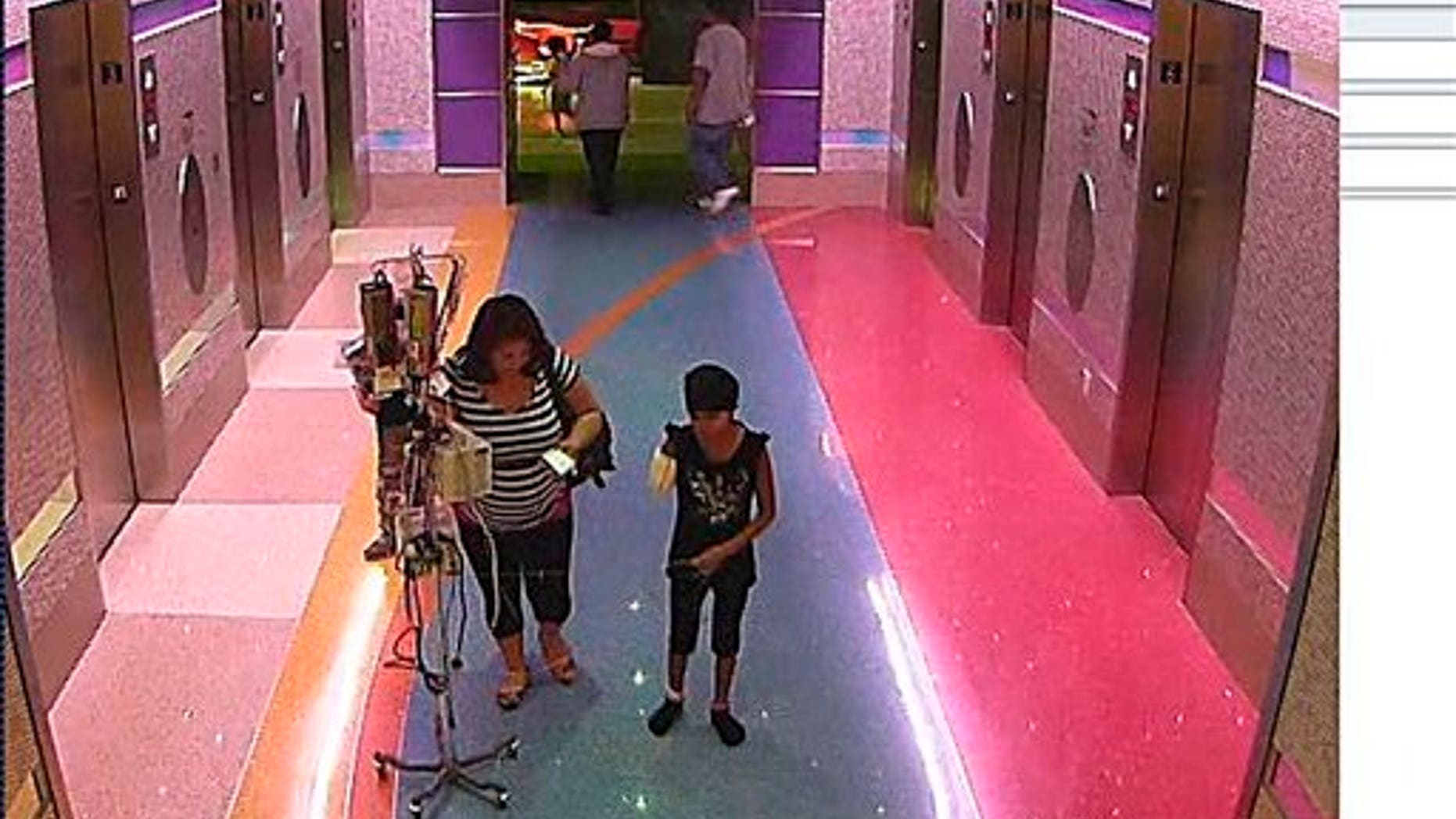 Emily is suffering from leukemia, underwent a month of chemotherapy, had her right arm amputated after suffering complications and may be at risk of dying from an infection. But the 11-year-old child isn't in a hospital and her parents are explaining why.
In an interview with Spanish-language television network Telemundo, Norma Bracamontes, who spoke through a cell phone from an undisclosed location, said she had no choice but to secretly remove Emily because her husband's insurance was running out and she wouldn't be allowed to take her daughter to Mexico.
She also questioned the medical attention her daughter was receiving – saying Emily contracted an infection at the hospital that forced her arm to become amputated.
Authorities had previously speculated the family may have been concerned with paying the child's hospital bill, prompting the sudden removal.
But the parents say it was more complicated than that. Emily's father said the medical bills had reached $1.37 million, close to his $2 million a year limit. They say they were told if they did not apply and get approve for Medicaid, they would have to start paying out of pocket.
"They kept telling us, 'Are you going to pay out of your pocket?' " Luis Bracamontes told the TV station, adding that his daughter is seeing a doctor and is doing fine.
Last week, Emily's mother Norma unhooked a tube that had been carrying vital medication through the girl's heart, got her out of bed and changed her clothes. Then she walked the child out of the hospital with the tiny tube protruding from her chest, outraging police and triggering a national search for the young girl.
In a surveillance video, the mother was spotted pushing an IV stand, the small child with a bandaged arm amputated above the elbow walking beside her. Authorities are stating Emily's treatment has not been completed and its imperative the mother returns her immediately.
Authorities say a catheter placed in the girl's heart could become infected, and could kill Emily if left unattended.
Authorities said they are considering criminal charges against the parents for negligence.
"Certainly from our standpoint, we are looking at it thinking, is this negligence in failing to provide Emily the proper medical care that she requires?" said police Sgt. Steve Martos Tuesday. "They should know by now what is required, what Emily needs, so it baffles us that anyone, any parent with a child like this, with leukemia and an amputated arm, and now you put them in this situation where it's potentially fatal, we just don't understand why they would not seek medical treatment."
Martos said the family lives a "nomadic" life without a permanent residence, but they have relatives in Arizona, California and Mexico, none of whom have been able to provide police information about their current whereabouts.
U.S. Border Patrol agents stopped the sick girl's Luis Bracamontes as he crossed into Arizona from Mexico over the weekend, but he has denied having any involvement with Emily being removed from the hospital. He repeated the same thing during an interview with Telemundo.
During the interview, he spoke to Emily from his cell phone, reassuring that her leukemia is in remission. In English, Emily said she was "fine." Luis also revealed the family is heartbroken the child's arm had to be removed.
Dr. William Schaffner, an infectious disease specialist at Vanderbilt University Medical Center, said Emily's immune system is already compromised from the cancer and chemotherapy. He said the longer Emily is away from medical care, the greater the health risk.
If infection does set in, he said, the girl could die "in a few days or worse, hours."
With reporting by the Associated Press.
Follow us on twitter.com/foxnewslatino
Like us at facebook.com/foxnewslatino