Palestinian officials hesitant on Arafat autopsy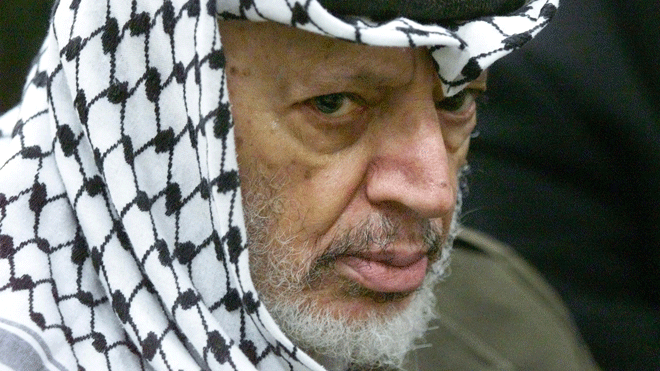 RAMALLAH, West Bank – In an apparent flip-flop, Palestinian investigators looking into Yasser Arafat's death said Thursday they want to review reports from a Swiss lab before deciding whether to exhume the leader's remains.
Earlier this week, a senior West Bank official said a final decision was made to examine Arafat's bones. That development followed an announcement by Switzerland's Institute of Radiation Physics, which said it found unexplained, elevated traces of a radioactive agent, polonium-210, on clothing and personal items Arafat used before his Nov. 11, 2004 death at a French military hospital.
The lab said the results were inconclusive and that Arafat's remains would have to be tested to learn more.
Since Arafat's death, several senior Palestinian officials have alleged that Israel poisoned the Palestinian leader, a charge Israel vehemently denied. At the time of his death, Israel had accused Arafat of complicity in the second Palestinian uprising.
Testing Arafat's bones could offer the last chance to get to the bottom of Palestinian claims that their leader was poisoned, though some experts cautioned it may already be too late for conclusive answers.
Earlier this week, a top Palestinian official, Saeb Erekat, said President Mahmoud Abbas decided to exhume the body and would invite a team from the Swiss lab to come to the West Bank to perform the tests.
In an apparent reversal, members of a Palestinian committee set up to investigate Arafat's death suggested Thursday the final word has not been spoken on whether to dig up the remains.
Arafat's remains are housed in a mausoleum in Abbas' walled government compound in the West Bank town of Ramallah.
Justice Minister Ali Mohanna, a member of the committee, told a news conference Thursday that Palestinian officials first want to review the Swiss lab report. After such a review, "we will decide what testing we need to do," he said.
Nasser al-Kidwa, an Arafat nephew and custodian of the late leader's legacy, has contacted the lab in hope of obtaining the full test records, said Mohanna.
He offered no explanation for the apparent U-turn. An autopsy could offend cultural sensibilities of conservative Palestinians, but at the same time the Palestinian leadership is under domestic pressure to do everything necessary to investigate the latest findings.
Arafat's widow Suha, last week demanded that her husband's grave be reopened. Mrs. Arafat has cooperated closely with the Arab satellite TV station Al-Jazeera, giving the broadcaster some of her husband's belongings and his medical file. The Swiss lab reports were first published by Al-Jazeera, at the end of a nine-month investigation.
Former Palestinian intelligence chief Tawfik Tirawi suggested Thursday that the widow decided to let the committee take the lead in deciding whether to conduct an autopsy. Tirawi said he spoke to Mrs. Arafat two days ago. He did not elaborate, and it was not clear if he meant she would withdraw her request for exhuming the remains if the committee made such a decision.
On Thursday, one of Arafat's physicians, Dr. Abdullah Bashir, reiterated the claim that Arafat was poisoned, without specifically blaming Israel. Bashir said poison experts contacted by the committee agreed with that assumption, but he did not identify the experts or explain how they reached that conclusion.
Arafat had spent the last three years of his life under Israeli siege at his Ramallah compound, now used by Abbas.
In October 2004, the 75-year-old Arafat fell violently ill and was airlifted to France.
French doctors said he died of a massive stroke and suffered from a blood condition known as disseminated intravascular coagulation, or DIC. But the records were inconclusive about what brought about the DIC, which has numerous possible causes, including infections and liver disease.
Bashir said the French medical records were incomplete.
"We have sent questions and received answers from the French hospital, and we consider the French report in regards to (possible) poisons to be weak," he said.