Pakistan names investigators in Musharraf treason case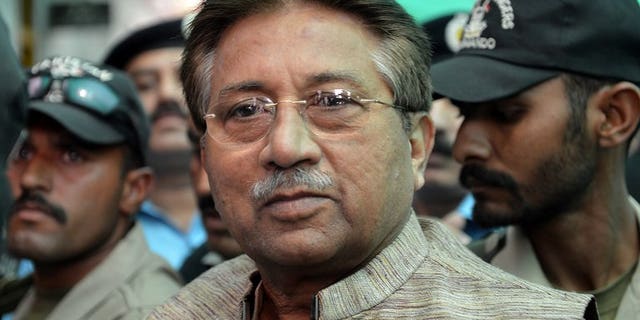 ISLAMABAD (AFP) – Pakistan on Thursday moved a step closer to putting former military leader Pervez Musharraf on trial for treason, appointing a committee to investigate him for subverting the constitution.
Interior Minister Chaudhry Nisar told parliament that a four-member committee had been set up to probe charges that Musharraf committed treason under article six of the constitution while in office from 1999-2008.
"It is a four-member committee or commission. This committee shall keep the interior ministry posted about the progress of the inquiry on a weekly basis and should submit its findings within a short space of time," Nisar said.
The committee will be made up of officers from the Federal Investigation Agency, he said.
The retired general, who returned from four years of self-imposed exile in March, has been under house arrest at his villa on the edge of Islamabad since April 19.
Prime Minister Nawaz Sharif, who made an astonishing comeback in May by winning elections 13 years after being deposed by Musharraf, said Monday that the ex-leader should be tried for treason.
The offence carries the death penalty or life imprisonment. Musharraf faces a slew of other cases relating to his 1999-2008 rule, including conspiracy to murder former prime minister Benazir Bhutto, who died in a gun and suicide attack in 2007.
The government on Thursday informed the Supreme Court of its intention to investigate Musharraf for treason.
Pakistan's highest court has been hearing a petition from lawyers demanding that Musharraf be tried for subverting the constitution by imposing emergency rule and sacking judges in 2007.
Musharraf's lawyer Ibrahim Satti urged the Supreme Court to give his client a fair trial, accusing the media and Sharif of being biased against him.
"In this background the answering respondent is expecting and having full hope that this bench will safeguard and protect the interest and civil right of him regarding fair trial," said Satti, speaking in English.
Presiding judge Jawad S.Khwaja said he would deliberate further on the issue and set no date for another hearing.
Musharraf has won bail for sacking judges and over the 2007 murder of former prime minister Benazir Bhutto, but remains under house arrest over the 2006 killing of a Baluch rebel leader.
He is holed up at his luxury villa in the upmarket suburb of Chak Shahzad and is currently barred from leaving the country.