Pakistan arrests 12 over NATO tanker attacks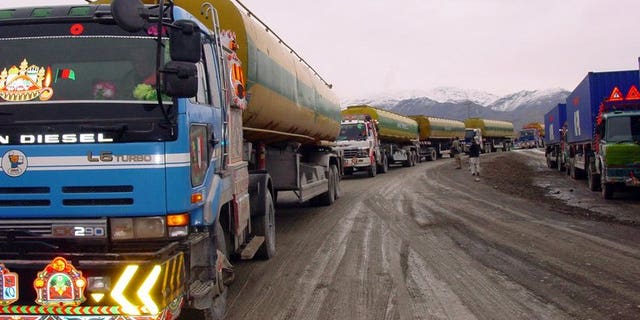 QUETTA, Pakistan (AFP) – Pakistani security officials said Thursday they had arrested 12 members of a gang involved in torching and destroying shipments for NATO troops in Afghanistan.
The paramilitary Frontier Corps carried out a series of raids in the town of Hub, 700 kilometres (400 miles) southeast of Quetta which is the capital of the troubled southwestern province of Baluchistan.
"We arrested a gang of 12 people who have been involved in destroying NATO containers," Corps spokesman Abdul Wassey told AFP.
He said the suspects also confessed to torching the NATO vehicles and killing or wounding their drivers.
"Cars used by these gangsters in the crimes were also recovered," he added.
The group was being interrogated for information about similar gangs operating in different areas of Baluchistan, the spokesman said.
The arrests come days after nine NATO tankers carrying fuel were destroyed in the Hub area on their way to the Chaman border crossing to Afghanistan.
Overland oil shipments to NATO troops in landlocked Afghanistan resumed through Pakistan less than two weeks ago under tighter security after a five-month suspension due to attacks.
Pakistani contractors had stopped driving oil supplies from Karachi to the Torkham border crossing in the country's northwest due to frequent attacks on their vehicles.
The NATO combat mission is due to end next year. Pakistan and the United States have signed a deal allowing NATO supply convoys to travel into Afghanistan until the end of 2015.