Oscar Pistorius served papers with 2 more gun charges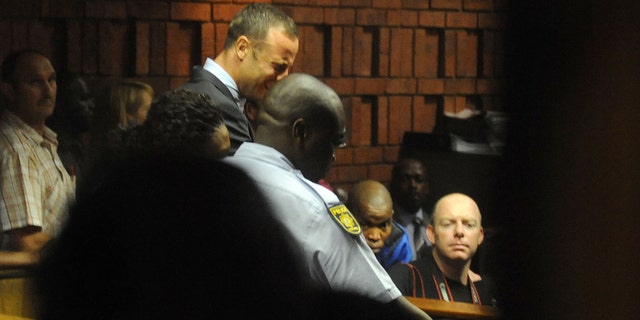 CAPE TOWN, South Africa – Oscar Pistorius was served with new indictment papers Wednesday containing two extra charges believed to allege that he recklessly shot his gun out the open sunroof of a car last year and fired someone else's handgun at a restaurant weeks before he killed girlfriend Reeva Steenkamp.
The double-amputee Olympian has already been indicted on a main charge of murder for the Feb. 14 shooting death of Reeva Steenkamp and another firearm charge for illegal possession of ammunition in his home.
He now faces the two additional charges relating to firing guns in public.
Pistorius will likely face all four charges at his trial starting in March, although his lawyers can argue against the new gun charges being added to his current indictment as the offenses are alleged to have taken place in Johannesburg -- a different court jurisdiction to Pistorius' fatal shooting of Steenkamp at his upscale villa in the South African capital, Pretoria, in the pre-dawn hours of Valentine's Day.
Pistorius' lawyers were served with the new papers, South Africa's national prosecution spokesman Nathi Mncube told The Associated Press.
"What happened today is ... Mr. Pistorius was served with a new indictment." Mncube said. "We have to advise him (of the extra charges) to accord him with enough time to prepare his defense."
Mncube declined to give the exact details of the new charges, only saying they "relate to the contravention of the firearms act." Mncube also said there had been no indication from Pistorius' lawyers if they would challenge the adding of the charges to Pistorius' indictment for the trial.
Prosecutors sought special permission to include the two gun charges against Pistorius on the indictment because they did not fall in the same jurisdiction. Permission was granted by South Africa's director of public prosecutions last month.
It's reported in South Africa that the new charges relate to two alleged incidents where Pistorius recklessly shot a gun in public: The first when Pistorius is alleged to have fired his own licensed 9mm handgun -- the gun used to kill Steenkamp -- out the open sunroof of a car in Johannesburg while traveling with friends last year.
In the second in January this year, and just weeks before Steenkamp's shooting death, Pistorius is said to have accidentally shot a friend's gun under the table at a Johannesburg restaurant, apparently while admiring it.
For both alleged offenses he could be charged with public endangerment and damage to property.
The multiple Paralympic champion, known as the `Blade Runner,' is world-famous for his carbon fiber running blades and for becoming the first amputee to compete on the track at the Olympics. He already faces a possible life sentence with a minimum of 25 years in prison if he is convicted of premeditated murder for fatally shooting Steenkamp. Pistorius says he shot her by mistake thinking she was a dangerous intruder in his house.
It will be Pistorius' 27th birthday on Friday and he was photographed by a newspaper this weekend while out at a Johannesburg restaurant with family, according to the paper.
The City Press published photos Sunday of Pistorius in the restaurant wearing a white T-shirt and with a short beard, smiling in one photo and with a black baseball cap pulled down near his eyes in another. The newspaper also quoted Pistorius as saying that he was "anxious" about his upcoming trial.
"I feel calm. I now spend most of my time with my family and I enjoy their company," Pistorius said, according to the newspaper, in rare public comments. "They are wonderful and their support is incredible. But, I must say, at the same time I am also anxious about the upcoming court case."