Okinawa boy injured after window falls off Marine chopper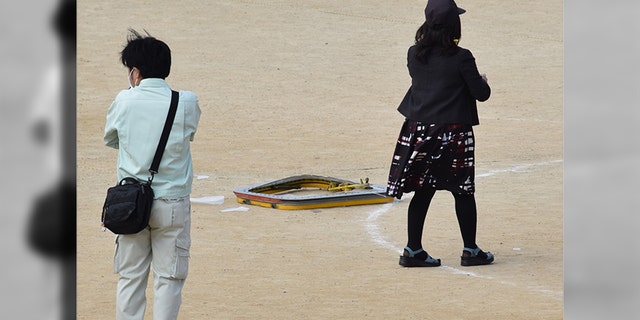 NEWYou can now listen to Fox News articles!
A boy was injured in Okinawa, Japan, Wednesday after a metal window frame plummeted from a U.S. military helicopter known as a Super Stallion, local officials said — the second such incident in the past week on the southern island.
Officials from the city of Ginowan said the window fell from a CH-53 transport helicopter and landed on a school playground, leaving a boy with minor arm injuries.
About 50 children were outside the school, which is next to the Marine Corps Air Station Futenma, at the time.
The Marines said the window was an emergency exit on the aircraft.
It's the second time in a week an object has fallen on a school. Last week, a part of another U.S. military helicopter fell on a nearby kindergarten roof, but nobody was hurt.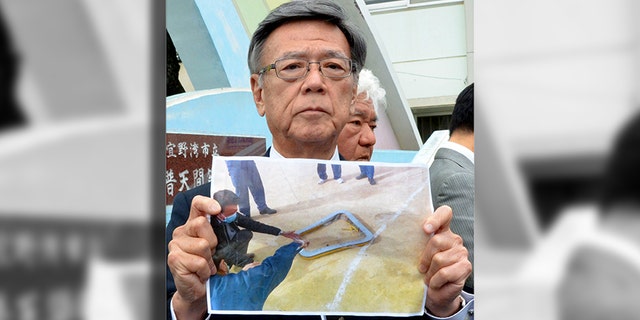 A Marine Corps CH-53 helicopter made an emergency landing on a farm and burned in October. Another helicopter belonging to the Futenma base crashed into a nearby university in 2004, injuring three U.S. crewmembers.
In a statement to Fox News, the Marine Corps said the Wednesday incident was regrettable and apologized for any anxiety the accident caused.
"At 10:09 a.m. today, a CH-53E window fell onto the sports field of Daini Futenma Elementary School outside of Marine Corps Air Station Futenma. The aircraft immediately returned to MCAS Futenma and reported the incident. We take this report extremely seriously and are investigating the cause of this incident in close coordination with local authorities," III Marine Expeditionary Force said in a statement to Fox News. "Updates will be provided as information is made available. For safety purposes and to preserve the site for an investigation, we ask the community remain clear from the object's landing site. This is a regrettable incident and we apologize for any anxiety it has caused the community."
The CH-53 is the largest helicopter in the U.S. military, but the Marine Corps has very few working.
The head of Marine Corps aviation, Lt. Gen. Steven R. Rudder, told Congress last month he is roughly 60 helicopters short. Of those in the inventory, only 37 percent can fly.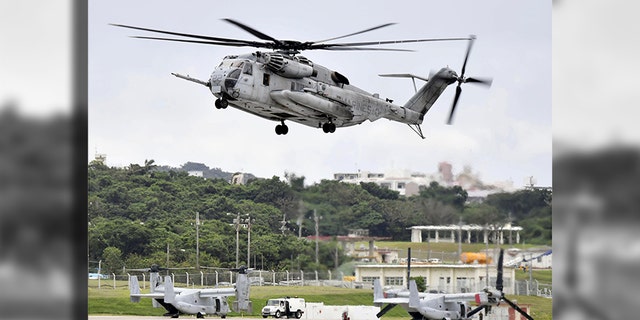 The shortage is causing the Marine Corps to fly the fewest hours each month in decades. The Army and Navy also have voiced similar concern over the shortage of available aircraft causing harm to the training of its pilots.
Many Japanese have protested the presence of Marines on Okinawa.
The base in a crowded residential area in central Okinawa is a source of anti-U.S. military sentiment and safety concerns. Its planned relocation, pushed by the Japanese and U.S. governments, has been delayed for more than 20 years because many residents want it entirely off of Okinawa.
Fox News' Lucas Tomlinson and The Associated Press contributed to this report.