Official says Afghanistan bars New York Times reporter from leaving country over vote story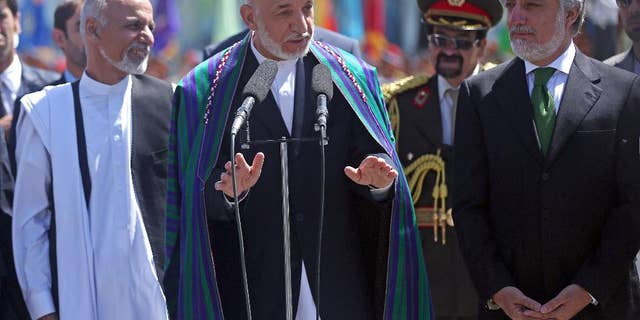 KABUL, Afghanistan – Afghanistan's attorney general has barred a New York Times correspondent from leaving the country because of a story in which he reported that a group of officials were considering seizing power because of the impasse over who won the recent presidential election, a spokesman said Tuesday.
Basir Azizi, a spokesman for the attorney general, said Matthew Rosenberg's Aug. 18 story was "against the law and national interests of Afghanistan." Azizi said Rosenberg was asked to come to the attorney general's office on Wednesday with his lawyer.
The head of the Kabul International Airport confirmed the attorney general sent a letter saying Rosenberg couldn't leave the country. "We are implementing that order," Agh Nawaz Ahaqyar said.
Afghanistan held presidential elections on April 6 to elect a successor to Hamid Karzai. A runoff followed on June 14 between former Foreign Minister Abdullah Abdullah and former Finance Minister Ashraf Ghani Ahmadzai. Abdullah had received the most votes in the first round but failed to clear the 50 percent barrier needed to win outright. Preliminary results indicated that Ahmadzai was ahead in the runoff but both men claimed fraud. The results are now being audited.
The crisis has tested Afghanistan's fragile democracy and threatened to incite violence at a time when the country is struggling with a rising insurgency and a troubled economy.
The New York Times story said some officials with ties to the security forces were "threatening to seize power." The newspaper, in a second story reporting the attorney general's decision, said Rosenberg's article reported that powerful figures in the Afghan government "were discussing the formation of a temporary governing committee as a way to break the deadlock that followed national elections."
Rosenberg, 40, told The Associated Press that he was called into the attorney general's office Tuesday, where he was asked about the story and requested to reveal his sources. After extensive questioning, he said he was allowed to go after agreeing to return the next day with a lawyer. Officials did not mention the travel ban, he said.
Joe Kahn, the New York Times' international editor, issued a statement saying that "the Afghan attorney general's office has advised Matthew Rosenberg that he must remain in Afghanistan while an investigation into his article is ongoing."
"We are eager to work with the Afghan authorities to resolve any concerns about the article, which we feel is fair and accurate," Kahn said.