Official: More Than 213,000 Workers Have Fled Libya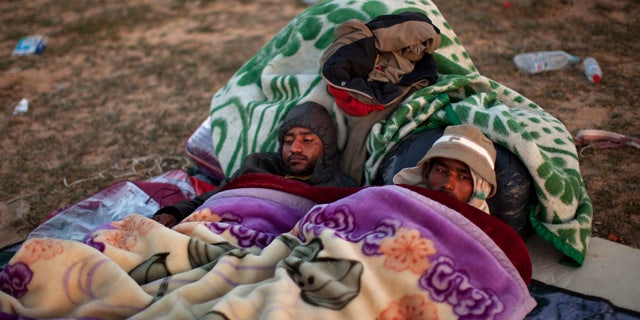 GENEVA -- More than 213,000 foreign workers have fled Libya's violence and hundreds of thousands more are expected to follow over the next three months, aid officials said Monday as they sought at least $160 million in emergency help for the exodus.
As part of the emergency appeal to be formerly announced later Monday by the U.N., the International Organization for Migration, an intergovernmental entity, is seeking at least $49.2 million for 65,000 migrant workers scrambling to leave the North African country, spokeswoman Jemini Pandya said.
"This still only scratches the surface," Pandya said. "We have to make sure that the response to the appeal is fast and furious, because time is of the essence."
The news comes days after critics of U.S. spending on the United Nations got a huge boost from an unlikely source: the British government, long one of the U.N.'s staunchest supporters.
In a sweeping reorganization of priorities for its $10.6 billion multilateral foreign aid program, the Conservative-Liberal Democrat coalition government of Prime Minister David Cameron last week pulled the financial plug entirely on four U.N. agencies at the end of next year; put three others judged merely "adequate" on notice that they could face the same fate unless they improve their performance "as a matter of absolute urgency;" and issued pointed criticisms of almost all the rest.
The major exception: UNICEF, the U.N. children's aid agency, which got a strong endorsement and a funding increase.
The developments were revealed as the Republican majority in the U.S. House of Representatives, led by House Foreign Affairs Committee chairperson Ileana Ros-Lehtinen, has been gearing up an extended critical look at U.N. funding as part of its overall budget austerity plan. The British revelations also came while U.S. Ambassador to the U.N. Susan Rice was on an extended cross-country tour, drumming up grass-roots support for U.N. funding in what is sure to be a protracted battle.
Meanwhile, U.N. Secretary-General Ban Ki-moon said he's deeply concerned about the plight of the many migrant workers and other civilians who are bearing the brunt of the fighting in Libya, particularly in the western portion that includes Libyan leader Moammar Gadhafi's stronghold in the capital, Tripoli.
Ban appointed former Jordanian foreign minister Abdelilah Al-Khatib as his special envoy to Libyan and urged authorities to ensure the safety of all foreigners and provide unhindered access for humanitarian aid.
He also called for an immediate halt to what he called Gadhafi's "disproportionate use of force and indiscriminate attacks on civilian targets" and said those who violate international law must be held accountable.
Pandya said there were about 1.5 million foreign migrant workers inside Libya before fighting began, along with thousands of Libyan refugees and asylum seekers -- so eventually many more millions might be needed.
"We know more migrant workers will flee," she said. "So far, we have seen more over 213,000 migrant workers leave the country, and they represent only 15 percent of the foreign population. So there are still a lot of people stuck inside the country."
Most of those fleeing have crossed Libya's borders into Tunisia, Egypt and Niger.
"We don't want to see a situation where people cross the borders and spend many more days at the border having to wait to be evacuated," Pandya said Monday. "Many of them are psychologically traumatized by what's happened to them. We have to help them so they don't linger and fall into these no man's lands."
The Associated Press contributed to this report.
Click here for more on U.K.'s Action on United Nations Spending.