Obama awards Medal of Valor to 13 law enforcement officers at White House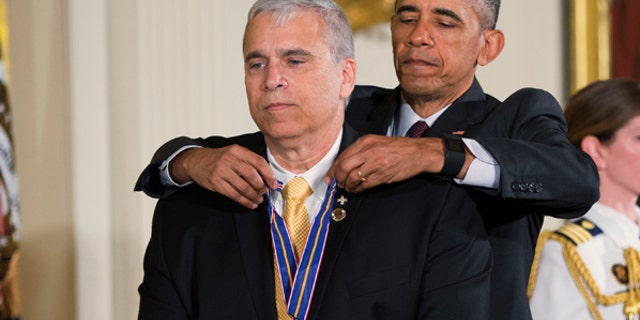 NEWYou can now listen to Fox News articles!
President Barack Obama honored on Monday 13 police officers who risked their lives to protect others.
In presenting the Medal of Valor at a ceremony in the East Room, Obama said the police officers receiving the Medal demonstrate how loving one's country means loving one another.
The president said that none of the officers sought out the situations that led to the medal. He said that because of their courage, the rest of society can go about living their lives freely.
Among the recipients were three Santa Monica, California, officers honored for their response to a 2013 incident on a community college campus that left five people dead.
Officers Jason Salas and Robert Sparks of the Santa Monica Police Department and Capt. Raymond Bottenfield of the Santa Monica College P.D., were cited "for courage and composure in ending a deadly rampage" according to a White House statement.
The June 2013 incident began with a domestic dispute and a fire at the home of 23-year-old John Zwahiri, who then went on a shooting spree that ended when he was shot at the Santa Monica College library.
The three men, the statement went on to say, "placed themselves in mortal danger to save the lives of students and staff during a school shooting on the busy campus of Santa Monica College."
A Miami-Dade officer, Mario Gutierrez, was honored "for bravery and composure while enduring a violent attack," according to the statement. "Gutierrez sustained multiple stab wounds while subduing a knife-wielding assailant who attempted to set off a massive gas explosion that could have resulted in multiple fatalities."
The incident took place in October 2013 at a Shell gas station near the Miami International Airport. Gutierrez wound up shooting his assailant and killing him, but the attack was so fierce he was stabbed badly in his chest, stomach, arms, hands and leg. He required multiple operations to recover.
"After the incident, for several months, I would have nightmares. I would wake up fighting," Gutierrez told the local CBS station.
After video of the incident was released in 2015, the officer told the station, "Eighty percent of that video, I don't remember. I was doing things there that to this day I have no recollection of."
President Obama also said that the nation has a responsibility to support and listen to those who serve. He promised to keep pushing for bipartisan legislation to make the criminal justice system smarter and fairer.
The Associated Press contributed to this report.