Not So Golden Years: Amid Economic Woes, Puerto Rican Seniors Head Back To U.S.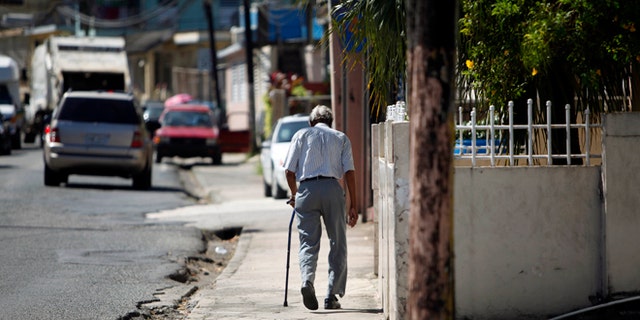 San Germán, Puerto Rico (AP) – Maxi Fajardo smiles as she recalls moving to New York City from Puerto Rico in her late teens, falling in love, finding a job at the Chiclets factory and raising four children.
Her goal all along, like that of many Puerto Ricans, was to work in the United States and then retire to her sun-dappled island, living her final years worry-free surrounded by family and friends. "The dream is always to return to your country," said the elegant 82-year-old who settled in Puerto Rico in 1992 along with her husband Florencio, a former subway conductor.
Now she and her husband see their move as a mistake. An eight-year recession, run-away prices and the flight of doctors have convinced them it's time to join a growing number of Puerto Rican retirees heading back to the U.S. mainland.
"There's been a big exodus," said 78-year-old Luís Vincenty. "I'd like to go back. Things are getting rough here. Everything's expensive."
Retirees are struggling with rising water, power and other utility prices, which the government hiked to trim a budget deficit projected to hit $820 million this year. The weak economy also has reduced pensions for retired Puerto Rican public workers, although some people such as the Fajardos still enjoy U.S. Social Security income coupled with pensions from their former jobs in the U.S.
For retirees who can no longer make do, finding part-time work on the island of 3.67 million people has become nearly impossible given a 15.4 percent unemployment rate, the highest of any in the U.S.
In addition, U.S. federal benefits such as Medicare and supplementary Social Security are less generous in Puerto Rico than in the 50 states, although living costs have long been higher on the island.
"Not being eligible to receive certain subsidies has forced many of our elderly to choose between buying their medication and paying their power bill, water bill or even rent," said Pedro Pierluisi, Puerto Rico's representative to the U.S. Congress.
The island's problems worsened this week when credit rating agency Standard & Poor's downgraded the U.S. territory's debt to junk status, citing Puerto Rico's fiscal woes as a barrier to repaying $70 billion in public debt. That raises borrowing costs, threatening the government's budget and its ability to provide basic services.
The Fajardos' problems began when Maxi Fajardo started suffering heart problems and needed a stent placed in an artery. The lack of medical specialists, the lengthy wait to get an appointment and poor medical service took their toll, they said.
"We didn't know about any of that until we got sick," said 87-year-old Florencio Fajardo, who lives with his wife in the colonial southwest town of San German. "A lot of people have moved here and then moved back because of this situation."
The island's sluggish economy itself has held back some Puerto Ricans from returning to the mainland. Vincenty, a native of the city of Mayaguez, said he has been trying to sell his house, but grumbles that he can't recoup the money he put into it due to the island's depressed housing market.
Vincenty, who lived about two decades in New York, said he and his wife were close friends with about 15 other couples who had moved back to Puerto Rico, but the majority of them have since returned to the U.S.
The return of retirees to Puerto Rico has fed the broader problem of an aging population in this U.S. Caribbean territory. The number of people 65 years and older has increased by 28 percent from 2000 to 2012, many of them returnees from the mainland. And 2011 marked the first time in recorded history that Puerto Rico's population was older than the U.S.'s, according to Mario Marazzi, executive director of Puerto Rico's Institute of Statistics.
Even as Puerto Rico struggles with its debt and deficit, the island's government spent an estimated $32 million last year as part of a program that helps impoverished elderly people with no one to care for them. Thousands more are awaiting help.
Zoraida Vega, director of a local nonprofit organization that helps struggling elderly people, said the government has not created an adequate plan to respond to the needs of the increasing number of aging poor.
Many retirees returning from the United States are taken by surprise by the island's economic reality, she said.
"Some have told me they expected to have the same benefits they have over there," Vega said. "They have to adapt to a new way of life."
Angel Ayala, a 79-year-old truck driver who spent most of his life in Brooklyn before moving back to Puerto Rico in 2006, said he has been forced to live on coupons and eats free meals daily at a senior center in San German. He receives a $480 monthly pension and recently borrowed $1,000 from a friend that he is still paying back.
"(The economy) has affected me greatly," he said. "I'm on foot. I haven't been able to repair my car."
He cannot afford to move back to the U.S., but others have saved up and are ready to go.
After more than two decades in Puerto Rico, the Fajardos have decided to live with one of their daughters and have already rented a house in Kissimmee, Florida, that they will share. At the same time, the couple continues to battle health problems.
"I'm scared of being hospitalized here," Maxi Fajardo said. "I'm sorry. It's my country, but," she paused, then took a breath. "It's chaos."
Follow us on twitter.com/foxnewslatino
Like us at facebook.com/foxnewslatino