North Korea's Kim Jong Un meets with China's Xi Jinping in Beijing
North Korean leader Kim Jong Un sat down with Chinese President Xi Jinping on Tuesday, the third visit between the two neighboring countries and a week after the despot met with President Trump in a historic Singapore summit.
Kim was seen on video sitting at the Great Hall of the People in Chinese capital after Xi welcomed the North Korean leader for a two-day trip. State broadcaster CCTV said Xi told Kim that through the "concerted efforts of the relevant countries" negotiations regarding issues on the Korean Peninsula are back on track and the overall situation is moving in the direction of peace and stability.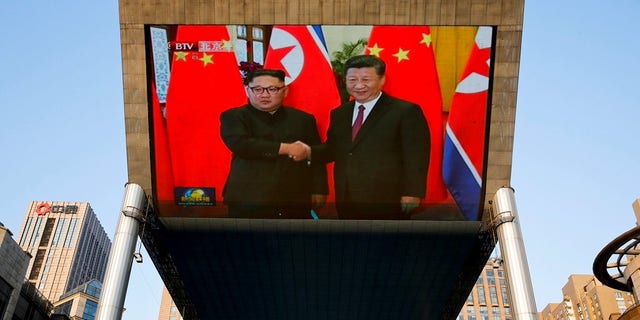 Xi was quoted saying the meeting between Kim and Trump was an "important step toward the political solution of the Korean Peninsula nuclear issue." He added that China hopes North Korea and the U.S. can "implement well the outcomes achieved at the summit" and that China would "always play a constructive role" in the process.
TRUMP SAYS HE HAS 'GOOD CHEMISTRY' WITH KIM JONG UN, AMID SCRUTINY FOR SALUTING NORTH KOREAN MILITARY OFFICER
The trip was Kim's third trip to China since March, which was the North Korean leader's first trip abroad since he took office in 2011. Kim and Trump met in Singapore last week for a historic summit where the despot pledged to denuclearization in exchange for U.S. security guarantees.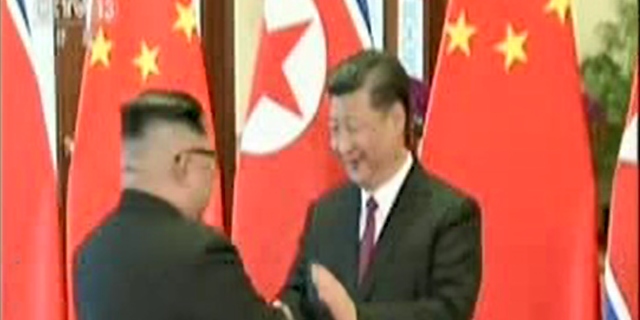 Despite the seemingly friendly attitude between Kim and Trump, relations between China and the U.S. have been strained. China on Tuesday threatened "comprehensive measures" in response to Trump's order for new tariffs on $200 billion of Chinese goods.
China's Commerce Ministry called the U.S. president's threat blackmail and said Beijing is prepared to "defend the interests of the Chinese people and enterprises."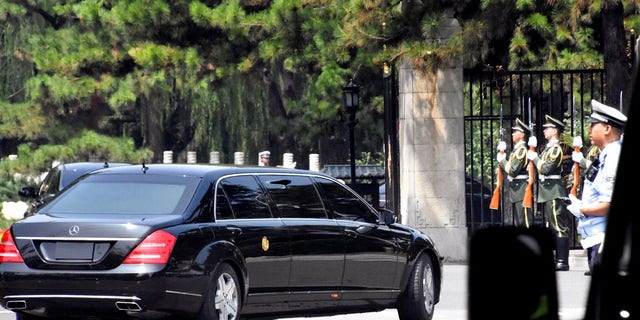 TRUMP RAISES TARIFFS ON $50 BILLION DOLLARS IN GOODS
With North Korea, however, analysts believe China is trying to normalize visits with Kim. The despot's trip on Tuesday to North Korea differed from the past two meetings because China's state media announced the trip before Kim arrived in Beijing for the meeting. Previous trips have been confirmed after Kim left the country.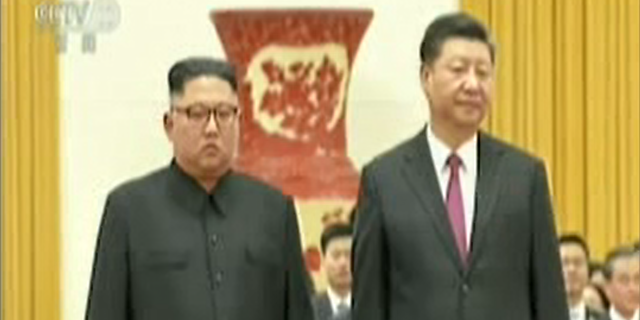 The March meeting was announced days after Kim had met with Xi for an "unofficial visit" accompanied by his wife, Ri Sol Ju. Rumors about Kim's trip began to swirl when a mysterious train appeared in the Chinese capital.
In May, Kim met secretly with Xi in the Chinese port city of Dalian, where the two leaders had an "all-around in-depth exchange of views on China-[North Korea] relations and major issues of common concern," the Chinese news agency reported. Kim took a plane to the meeting.
The Associated Press contributed to this report.