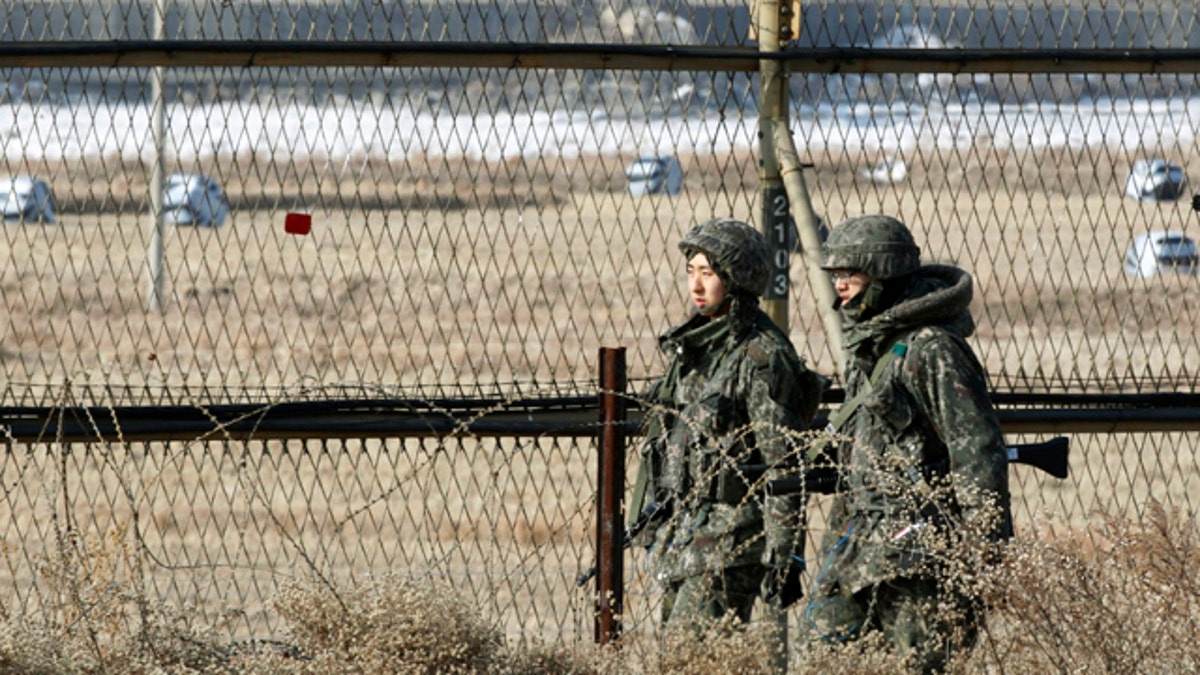 SEOUL, South Korea – North Korean leader Kim Jong Un convened top security and foreign affairs officials and ordered them to take "substantial and high-profile important state measures," state media said Sunday, indicating that he plans to push forward with a threat to explode a nuclear device in defiance of the United Nations.
The meeting of top officials led by Kim makes clear that he backs Pyongyang's defiant stance in protest of U.N. Security Council punishment for a December rocket launch. The dispatch in the official Korean Central News Agency did not say when the meeting took place.
Last week, the Security Council condemned North Korea's Dec. 12 launch of a long-range rocket as a violation of a ban against nuclear and missile activity. The council, including North Korea ally China, punished Pyongyang with more sanctions and ordered the regime to refrain from a nuclear test -- or face "significant action."
North Korea responded by rejecting the resolution and maintaining its right to launch a satellite into orbit as part of a peaceful civilian space program.
It also warned that it would keep developing rockets and testing nuclear devices to counter what it sees as U.S. hostility. A rare statement was issued Thursday by the powerful National Defense Commission, the top governing body led by Kim.
Kim's order for strong action and the recent series of strong statements indicate he intends to conduct a nuclear test in the near future to show "he is a young yet powerful leader both domestically and internationally," said Chin Hee-gwan, a North Korea expert at South Korea's Inje University.
North Korea cites a U.S. military threat in the region as a key reason behind its drive to build nuclear weapons. The two countries fought on opposite sides of the Korean War, which ended after three years in 1953 with an armistice, not a peace treaty. The U.S.-led U.N. Command mans the Demilitarized Zone dividing the two Koreas, and Washington stations more than 28,000 troops in South Korea to protect its ally.
North Korea is estimated to have enough weaponized plutonium for four to eight bombs, according to American nuclear scientist Siegfried Hecker, who visited the country's nuclear complex northwest of Pyongyang in November 2010.
However, it is not known whether North Korean scientists have found a way to build nuclear warheads small enough to mount on a long-range missile.
Experts say regular tests are needed to perfect the technique, and another atomic test could take the country closer to its goal of building a warhead that can be mounted on a missile designed to strike the United States. North Korea has carried out two nuclear tests, in 2006 and 2009.
South Korean defense officials say North Korea is technically ready to conduct a nuclear test in a matter of days.
Satellite photos taken Wednesday show that over the past month, roads have been kept clear of snow and that North Koreans may have been sealing the tunnel into a mountainside where a nuclear device would be detonated.
Analysis of the images of the Punggye-ri site was provided Friday to The Associated Press by 38 North, the website of the U.S.-Korea Institute at Johns Hopkins School of Advanced International Studies.
Kim could order a nuclear test ahead of the Feb. 16th birthday of his late father and former leader Kim Jong Il to "create a festive mood," Chin predicted. Kim Jong Il died at age 69 in December 2011.
The U.S., South Korea and other countries have warned North Korea not to go ahead with a nuclear test, saying that would only deepen the country's international isolation.
After meeting with Chinese officials Friday, U.S. envoy for North Korea Glyn Davies said a nuclear test would set back efforts to restart regional talks on the North's nuclear disarmament.
North Korea has accused the U.S. and South Korea of leading the push for the U.N. Security Council resolution.
Sunday's KCNA dispatch said the U.N. punishment indicates U.S. hostility toward North Korea has reached its highest point. North Korea also warned South Korea on Friday of "strong physical countermeasures" if Seoul takes part in the U.N. sanctions.