North Korea to quarantine foreigners for 21 days over Ebola fears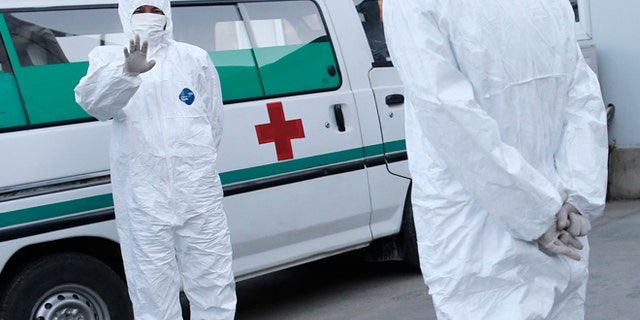 PYONGYANG, North Korea – North Korean officials have announced they will quarantine foreigners for 21 days over fears of the spread of the Ebola virus.
An announcement distributed to foreign diplomatic missions in Pyongyang said that, regardless of country or region of origin, all foreigners will be quarantined under medical observation for 21 days.
It said foreigners from affected areas will be quarantined at one set of locations, while those from unaffected areas will be sent to other locations, including hotels. It said the staff of diplomatic missions and international organizations in North Korea will be allowed to stay in their residences.
A copy of the document, dated Wednesday, was obtained by The Associated Press on Thursday.
There have been no reported cases of Ebola in North Korea.
More than 13,700 people have been sickened in the Ebola outbreak, and nearly 5,000 of them have died. Nearly all the cases are in Liberia, Sierra Leone and Guinea, though there were 20 in Nigeria, four in the U.S. and one each in Mali, Senegal and Spain. No cases have been reported in Asia.
North Korea's frantic response to Ebola, including a broad but so far poorly defined ban on foreign tourism, is also surprising because the notoriously reclusive country admits so few foreigners in the first place.
Other than diplomatic and government missions, it has virtually no contact with any of the countries that have been most affected in west Africa, though it has tried to cultivate good relations with some African nations.
Kim Yong Nam, the head of North Korea's parliament, is now touring other parts of Africa.
Last week, North Korea's state media announced that travelers and cargo would be subject to stricter monitoring at airports, seaports and railway border crossings. Warnings are also being aired on television to increase public awareness of the disease and its symptoms.
North Korea's reaction isn't unprecedented. It closed its borders for several months in 2003 during the scare over SARS.
But that was a much more obvious threat. SARS affected China, and Beijing is where most flights into Pyongyang originate. In the case of Ebola, North Korea's efforts to defend itself from what appears to be a tiny risk may end up alienating it from foreigners who have been willing to invest here.