North Korea test-fires 25 short-range rockets, South Korean officials say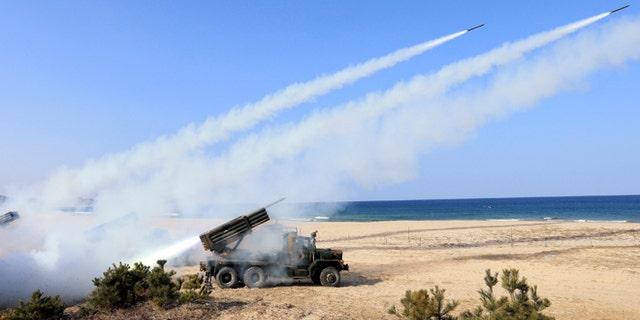 SEOUL, South Korea – North Korea fired 25 short-range rockets into the sea off its east coast Sunday in an apparent continuation of protests against ongoing U.S.-South Korean military drills, South Korean officials said.
Such short-range rocket tests are usually considered routine, as opposed to North Korean long-range rocket or nuclear tests, which are internationally condemned as provocations. North Korea has conducted a string of similar short-range launches in recent weeks that have coincided with the annual military drills by allies Washington and Seoul.
North Korea says the drills are preparation for an invasion. The allies say the exercises, which last year prompted North Korean threats of nuclear war against the South and the United States, are routine and defensive in nature.
Outside analysts say the North is taking a softer stance toward the U.S.-South Korean military drills this year because it wants better ties with the outside world to revive its struggling economy. North Korea's tirade of war rhetoric against Washington and Seoul last spring followed international condemnation of its third nuclear test, in February 2013.
On Sunday, North Korea launched 25 rockets with a range of about 70 kilometers (44 miles) and they landed in international waters off the North's east coast, according to South Korea's Defense Ministry. An investigation on their trajectory showed the rockets are believed to be unguided, old Soviet-developed FROG rockets that North Korea has been possessing since the 1960s, ministry spokesman Kim Min-seok said Monday.
Kim called the rocket launches an "armed protest" against the South Korean-U.S. drills, adding South Korea was watching for possible additional launches.
In Washington, State Department spokeswoman Jen Psaki urged North Korea to refrain from provocative actions that aggravate tensions.
Earlier this month, Seoul said a North Korean artillery launch happened minutes before a Chinese commercial plane reportedly carrying 202 people flew in the same area.
Pyongyang has said that its recent rocket drills are part of regular training and are mindful of international navigation.
The Korean Peninsula remains officially at war because the Korean War ended with an armistice, not a peace treaty.