North Korea launches short-range 'projectiles': report
North Korea reportedly launched multiple unidentified short-range "projectiles" off its eastern coast Saturday.
Word of the firings was reported by South Korea's Yonhap News Agency, which cited South Korea's Joint Chiefs of Staff (JCS). The South initially reported that the Communist North fired short-range missiles but later retracted that statement.
The projectiles were fired from North Korea's east-coast town of Wonsan in a northeastern direction and reportedly toward the East Sea, the agency said, citing a news release. The launches took place "between 9:06 a.m. and 9:27 a.m." local time and reportedly flew up to 125 miles, according to the outlet.
OTTO WARMBIER'S MOTHER SAYS NORTH KOREA 'A CANCER ON EARTH,' CALLS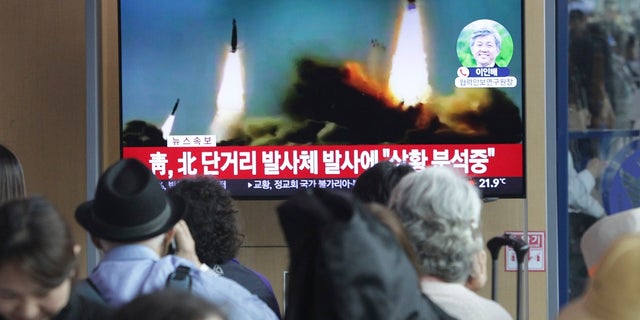 "Our military has been closely watching North Korea's movements and has maintained a full-fledged posture in close coordination with the U.S.," the JCS said.
The Pentagon did not confirm the launches for Fox News, saying officials were still looking into the report. But the White House issued a statement.
"We are aware of North Korea's actions tonight. We will continue to monitor as necessary," White House press secretary Sarah Sanders said.
"We are aware of North Korea's actions tonight. We will continue to monitor as necessary."
South Korean officials were monitoring the situation and were sharing information with their American counterparts. North Korea did not report on Saturday's firings. Seoul's intelligence agency said it thinks the projectiles were not missiles given their short travel distances and low altitude.
The South called on the North to halt activities that could military tensions in the Korean peninsula. In 2014, Pyongyang fire four short-range projectiles, according to Yonhap.
"What the North fired today showed similar trajectories to those fired in 2014," the military officer noted.
Last month, North Korea test-fired what it called "the new tactical guided weapon," that appeared to be designed for ground combat, according to South Korean authorities.
NORTH KOREA REBUILDING ROCKET LAUNCH SITE AFTER FAILED SUMMIT, REPORTS SAY
Earlier this year, President Trump and North Korean leader Kim Jong Un met in Vietnam for their second summit, but negotiations fizzled. The North requested sanctions relief in exchange for partial denuclearization measures. The U.S. balked at the request, insisting sanctions would not be relaxed until complete denuclearization.
The two world leaders had previously met in Singapore in June 2018, with both signing a document promising to work for "complete denuclearization of the Korean peninsula."
On Friday, Trump and Russian President Vladimir Putin discussed several topics, including North Korea during a phone conversation, according to a Twitter message from President Trump.
Saturday's launch could escalate tensions between Washington and Pyongyang, as the U.S. continues to pressure the North to disarm. In a sign of growing frustration, Pyongyang recently demanded that U.S. Secretary of State Mike Pompeo be removed from nuclear negotiations and criticized national security adviser John Bolton.
"North Korea wants to say, 'We have missiles and nuclear weapons to cope with (U.S.-led) sanctions,'" said Nam Sung-wook, a professor at Korea University. "They can fire short-range missiles a couple more times this month, and there is no guarantee that they won't fire a medium-range missile next month."
American experts estimate that North Korea has 30 to 60 nuclear warheads, the New York Times reported. They say it may have an ICBM capable of hitting the U.S.
A missile test would have been the rogue state's first since 2017, when it fired an intercontinental ballistic missile into Japanese waters. It also launched a missile over Japan earlier that year.
Concerns over North Korea's nuclear program arose again during the lead-up to the 2018 Winter Olympics in PyeongChang, South Korea. A diplomatic breakthrough in which the North agreed to participate in the games quelled fears of a worst-case scenario, according to the Times.
CLICK HERE TO GET THE FOX NEWS APP
The North has threatened to "sink" Japan and reduce the U.S. to "ashes and darkness" for supporting a United Nations Security Council resolution and sanctions over its nuclear program. After its launch over Japan in 2017, Trump vowed "fire and fury" if North Korea ramped up its nuclear threats. That year saw a string of weapons tests from the North and responses from Trump that had many in the region fearing war.
Japan's Defense Ministry said Saturday's projectiles were not a security threat and didn't reach the country's coast.
Fox News' Lucas Tomlinson contributed to this report.