North Korea to send delegation to Winter Olympics, South Korea's officials say after rare talks
South Korea on Tuesday said North Korea will send a delegation to next month's Winter Olympics in the South, a sign of a possible thaw in the relationship between the two countries.
Chun Hae-sung, South Korea's vice unification minister, said the promise to send the delegation was made during the rare talks at the border on Tuesday, the first such talks since 2015 December.
The North's delegation to the Winter Olympics is to include officials, athletes, cheerleaders and journalists.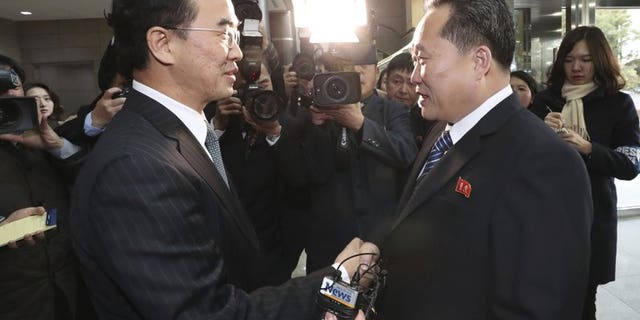 Chun said Seoul suggested both Koreas could conduct a joint march during the Game's openings and closing ceremonies, and to resume temporary reunions of families separated by war. The official also offered another round of talks to reduce tension in frontline areas.
The meetings between officials of the two Koreas were arranged after North Korean leader Kim Jong-Un made an unexpected push for an improved relationship with the neighbor following a year of tensions over his country's nuclear weapons testing.
Some skeptical voices have said the North's motivation for the talks and apparent compromises is to cause a rift between South Korea and the U.S.
President Trump has taken a tough approach to the issue of nuclear proliferation in the Korean Peninsula.
U.S. officials expressed hope for some progress from the talks, but stressed that any change in conditions regarding talks with North Korea is premature and would only come after it stops its weapons testing for a "significant amount of time."
It remains unclear how the North Korean officials responded to the other proposals. The talks between the two countries have a long history of ending without reaching any agreement.
Both sides are set to continue the talks later Tuesday at Panmunjom, the only place on the border where the soldiers of both the North and South are merely feet away from each other.
Last year, a North Korean soldier defected to the South. Although he successfully defected, he was shot five times.
The Associated Press contributed to this report.