North Korea rebuilding rocket launch site after failed summit, reports say
North Korea is restoring a rocket launch site it had dismantled as part of its disarmament pledge last year -- just a week after a nuclear summit between Kim Jong Un and President Donald Trump ended without an agreement, reports said Wednesday.
New satellite images show that efforts to rebuild some structures at the Tongchang-ri launch site started between Feb. 16 and March 2, the Associated Press reported, citing 38 North, a website specializing in North Korea studies.
PENTAGON ANNOUNCES END OF SPRINGTIME MILITARY DRILLS WITH SOUTH KOREA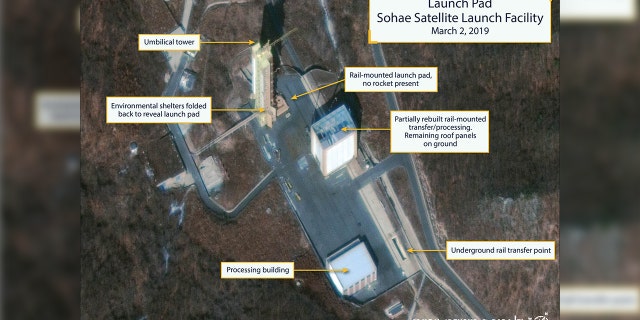 The structures being restored include a rail-mounted transfer building, for which new walls have been erected and a new roof added, 38 North reported. The engine support structure at the engine test stand is also being reassembled, the report said. New roofs have been installed on the fuel and oxidizer buildings.
South Korea's JoongAng Ilbo newspaper reported Wednesday that the country's spy service gave an assessment on the North's launch site to lawmakers in a private briefing Tuesday. The unnamed lawmakers' offices couldn't immediately confirm the paper's report.
National Intelligence Service director Suh Hoon told lawmakers at the briefing that the structures being restored at the launch site include roofs and doors of buildings, JoongAng Ilbo reported, citing unidentified lawmakers who attended the briefing.
Suh reportedly said that the restoration is seen as the North's preparation to restart long-range missile test-launches in the event that nuclear diplomacy cannot be reached. Suh reportedly also suggested that the rebuilding was being done so the launch site could be blown up more dramatically in a show of denuclearization commitment when U.S. inspectors visit if negotiations with Washington go well.
The launch site has been used for satellite launches and engine testing, never for ballistic missile launches, according to the BBC. Dismantling the site was one of several steps the North had begun last year after it entered talks with the U.S. and South Korea. But as the talks stalled, so did the site's demolition.
MCCARTHY SAYS HE BELIEVES NORTH KOREA'S KIM KNEW ABOUT WARMBIER, CONTRADICTS TRUMP
Harry Kazianis, Director of Korean Studies at the Center for the National Interest, and a Fox News contributor, said: "The facility in question, Sohae Satellite Launching Station or sometimes called Tongchang-ri, has seen activity in the last few days which suggests the North Koreans are rebuilding their capability to potentially test space launch vehicles and can place satellites into orbit.
"There is also evidence to suggest Pyongyang might be rebuilding at the same facility an engine testing stand that is likely used to measure the capabilities of motors that would go into the North's long-range missiles (ICBMs) that can hit the United States with a nuclear payload.
"The good news is that this site has not been used to test offensive missiles that can hit the U.S. homeland or our allies in Asia.
"Of course, any missile technology used in a civilian space program can be used for military purposes—and why we could interpret this as a signal by Pyongyang that while have not tested any missiles, nuclear weapons or space launch vehicles in some time, Pyongyang may be trying to gently remind us that can change—and fast."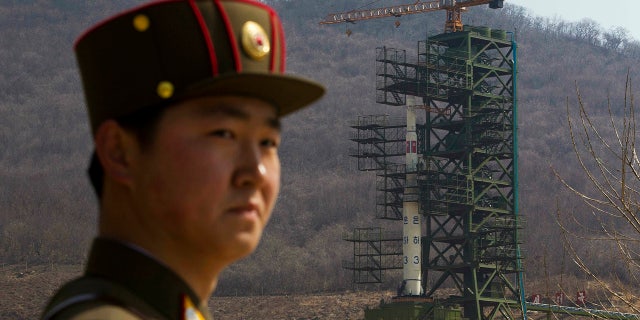 AFTER TRUMP-KIM SUMMIT COLLAPSES, NORTH KOREA INSISTS THEY MADE 'REALISTIC PROPOSAL' ABOUT LIFTING SANCTIONS
U.S. National Security Adviser John Bolton on Tuesday reiterated that North Korea could face even tougher sanctions if the Hermit Kingdom did not fully give up its nuclear weapons program.
"If they're not willing to do it, President Trump has been very clear they're not getting relief from the crushing economic sanctions that have been imposed on them," Bolton told the Fox Business Network. "And we'll look at ramping those sanctions up, in fact."
CLICK HERE TO GET THE FOX NEWS APP
Trump abruptly walked away from negotiations with the North at the summit last week in Hanoi, saying the U.S. was unwilling to meet Kim Jong Un's demand of lifting all sanctions without first securing its meaningful commitment to denuclearization.
The rogue regime later disputed Trump's account of why the summit collapsed, insisting that it demanded only partial sanctions relief in exchange for closing the country's main nuclear complex and that discussions fell apart after the United States demanded further disarmament steps.
The Associated Press contributed to this report.