North Korea again proposes talks with South Korea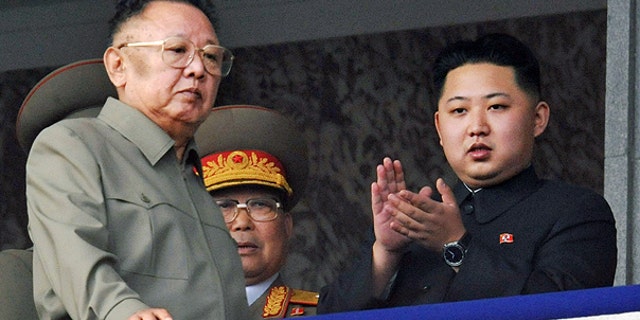 SEOUL, South Korea – North Korea reiterated Saturday a proposal for unconditional talks with South Korea to ease tensions on the divided peninsula.
The latest offer comes days after South Korea dismissed earlier calls by the North for negotiations.
Meanwhile, North Korea's official Twitter account appeared to have been hacked on Saturday, which is believed to be the birthday of leader Kim Jong Il's youngest son and heir-apparent, Kim Jong Un. Four messages critical of the Kims remained posted in the account for 10 hours as of late Saturday.
"Let's make a new world by removing our people's sworn enemy — traitor Kim Jong Il and his son Kim Jong Un!" one message read. Another urged the North's military to "point the gun" at Kim Jong Il for diverting money to the country's missile and nuclear programs.
Tensions between the two sides escalated after a North Korean artillery barrage on a South Korean-held island near their disputed maritime border killed four South Koreans in November.
The attack — the first on a civilian area since the 1950-53 Korean War — occurred in waters not far from where a North Korean torpedo allegedly sank a South Korean warship eight months earlier. That attack killed 46 sailors. North Korea has denied responsibility.
"We do not want to see the present South Korean authorities pass the five-year term of their office idly without North-South dialogue," the North's Committee for the Peaceful Reunification of Korea said in a statement carried by the country's official Korean Central News Agency.
"There is neither conditionality in the North's proposal for dialogue nor need to cast any doubt about its real intention," it said.
North Korea also proposed holding separate talks later this month or in early February on other issues, including resumption of a suspended joint tourism project and cooperation at an industrial complex in the border city of Kaesong. The North also suggested restarting suspended Red Cross talks on humanitarian issues.
North Korea said its offer was "a measure of good faith for opening the channel of dialogue and improving the North-South relations."
"The South Korean authorities should discard any unnecessary misgiving, open their hearts and positively respond to the North's proposal," the statement said.
Unification Ministry Chun Hae-sung said South Korea would review the latest offer, noting North Korea has not sent an official request for talks.
North Korea called this past week for unconditional and early talks with South Korea, but Seoul dismissed the offer and urged the North to show it has changed through actions, not words.
North Korea's sudden willingness to talk fits a well-established and — for diplomats engaged in the often tortuous negotiations in the past — tiresome pattern. North Korea, the complaint goes, creates a crisis and, when panic and fear envelope Seoul, Washington and Tokyo, then offers the possibility of negotiations to win badly needed food, fuel and other aid.
Six-nation talks aimed at ending North Korea's nuclear weapons programs have stumbled and were last held in December 2008.
The U.S. and South Korea have been vague about what they want from the North to restart the talks, which involve the two Koreas, the U.S., China, Japan and Russia. Washington has indicated an openness to a resumption but is urging the North to demonstrate it is serious about changing its behavior.
"We are open to dialogue, as we've said clearly, but there are definitely steps that North Korea must take to make it clear that actual face-to-face discussions would be constructive," State Department spokesman P.J. Crowley said in a briefing Friday.
In August, North Korea opened a Twitter account as part of an apparent attempt to bolster its propaganda warfare against South Korea and the United States.
The account "uriminzok," which means "our nation" in Korean, has so far gained 10,870 followers, with more than 1,300 tweets praising Kim Jong Il and carrying North Korean official media reports.
KCNA did neither mention the apparent hacking or any celebrations of Kim Jong Un's reported birthday Saturday.
Kim Jong Il made his youngest son, Kim Jong Un, a four-star general and gave him key political posts in September for an eventual second hereditary transition of power.
Kim himself took power in 1994 after the death of his father, national founder Kim Il Sung.