Norfolk Islanders capture bronze medal on Aussie mainland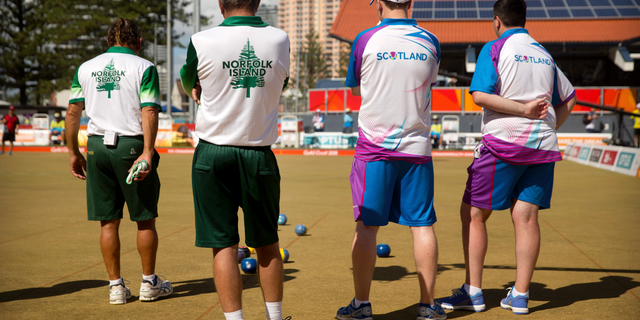 GOLD COAST, Australia – They did it for themselves, their families and — most of all — their island.
Norfolk Island, boasting just 18 athletes at these Commonwealth Games, won bronze in the lawn bowls men's triples competition Sunday and, fittingly, with some of their famous trees in the backdrop.
It was just the second Commonwealth Games medal ever won by Norfolk, which boasts a population of less than 2,000 and just the one bowling rink.
Ryan Dixon, Haydn Evans and Phillip Jones took a five-shot lead after the second end and were never headed by Canada to win 19-16. Watching from the stands was the island's only previous games medalist, Carmen Anderson, who won a bronze in the women's singles in 1994.
Norfolk Islanders are proud of their unique culture and the lawn bowlers were chuffed to stand on a podium and watch the raising of their green and white flag that features the Norfolk Pine.
Evans, a farmer and local actor on the island who plays the role of Fletcher Christian, is an eighth-generation Islander and a descendent of the Bounty mutineers who first settled on Pitcairn island and then moved to Norfolk.
He speaks the island's native language, which is a mix of old English and Tahitian.
Lead bowler Jones, a former teacher, drivers a taxi on the island, which happens to be a car formerly owned by the author Colleen McCullough.
The three clearly bristle at their island being run out of the Australian capital, Canberra, under the status of an island territory.
But the three — who are still involved in games competition — didn't really want to comment on that for now.
High-profile international human rights lawyer Geoffrey Robertson is more than happy to discuss it.
The Norfolk Island community has launched a legal challenge with the United Nations, alleging the Australian government has breached an international covenant on civil and political rights following the forced takeover of the island's governance.
The island — which is about 1,600 kilometers (1,000 miles) east-northeast of Sydney and 1,000 kilometers (620 miles) north-northwest of Auckland, New Zealand — was first settled as a convict colony not long after the British settlers arrived in Australia in 1788.
Robertson is running the case on behalf of the president of the Norfolk Island Council of Elders, Albert Buffett.
The matter will now be investigated by the UN Human Rights Committee — part of the Office of the United Nations High Commissioner for Human Rights — to examine whether the Australian government has breached the International Covenant on Civil and Political Rights.
Robertson said he was pleased that 18 Norfolk athletes were competing on the Gold Coast.
He said the island had been granted "a large measure of self-government" by former Australian Prime Minister Malcolm Fraser in 1979, but that "was taken away for no good reason" in 2015.
The Australian government-appointed administrator "closed down its Parliament, censored its radio station, and generally behaved like the original Colonel Bligh," Robertson said in comments e-mailed to The Associated Press. "The legal problem for Australia is that it purports to believe in democracy yet it took away the Islander's right to vote for their own parliament and imposed on them the laws of the New South Wales (state) Parliament, for which they cannot vote."
The islanders can only vote in Australia's federal elections.
Robertson said Australia should be proud of Norfolk Island as a world heritage area, and celebrate its difference rather than treat it as any other coastal town of New South Wales state.
He said it was heartening that the Commonwealth Games recognized the right of Norfolk Islanders to compete under their own flag. The Norfolk team is one of 71 countries and territories competing at the April 4-15 games.
"Any medal of any color is a huge deal for Norfolk Island ... it marks our identity and lets people know who we are. We have great culture ... we are so very proud," Evans said, indicating trees in the background. "We feel like we're at home — look around there's heaps of Norfolk Island pines. No one caught us tree hugging earlier today."