Nigerian airlines ground flights over fuel crisis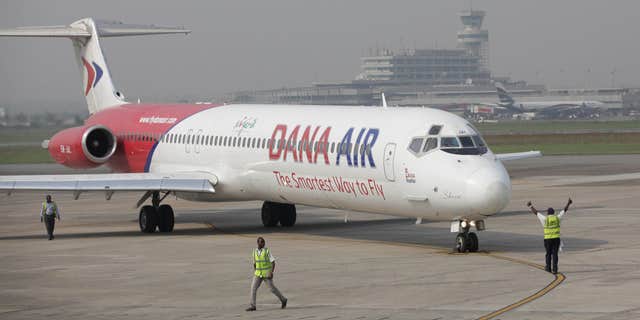 LAGOS, Nigeria – Nigerian airlines grounded flights Saturday and radio stations were silenced as a months-long fuel shortage aggravated by striking oil tanker drivers worsened in Africa's biggest oil producer.
Vehicles also were grounded. Normally bustling roads in Lagos, a metropolis of 20 million, were half-empty and gas stations closed Saturday. One station owner said he had fuel but strikers are threatening to set fire to any stations selling it. He insisted on anonymity for fear of reprisals.
Police were arresting black marketers selling fuel at roadsides at four times the regulated 87 naira (40 cents) a liter.
Radio stations went dead Saturday night, including Classic FM, The Beat and City FM, hit by frequent power outages and out of diesel fuel for generators.
Chaos reigned at bus stations where vehicles stood idle and at Lagos' Murtala Muhammad International Airport as one flight after another was canceled.
"All flights suspended or canceled. No fuel. Been sitting here since 6 a.m.," one customer complained on Twitter.
Aero Contractors, one of Nigeria's largest private airlines, has canceled 80 percent of its flights, said spokesman Simon Tunde.
Passengers said that Air France and Kenya Airways flights diverted to Dakar, Senegal, and Cotonou, Benin, to refuel on their way to Paris and Nairobi because no fuel was available in Lagos this week.
Nigeria produces more than 2 million barrels of petroleum a day but imports refined fuel because it does not have enough functioning refineries. It regularly suffers fuel shortages but nothing as severe as the current countrywide crisis.
The crisis started weeks before the March 29 elections, with oil suppliers hit by tightened credit lines amid halved international oil prices, a slump in the naira currency, and unpaid government debts the suppliers claim amount to nearly $1 billion.
Unpaid oil tanker drivers went on strike earlier this month and other industry workers joined them this week.
President Goodluck Jonathan lost the elections and suppliers fear the debt will not be honored by President-elect Muhammadu Buhari, a former military dictator who pledged to fight endemic corruption.
Some alleged debt involves fuel subsidies that critics say are a scam that benefited oil suppliers and corrupt government officials with no reduced costs for ordinary Nigerians.