New Zealand quake toll rises to 113 dead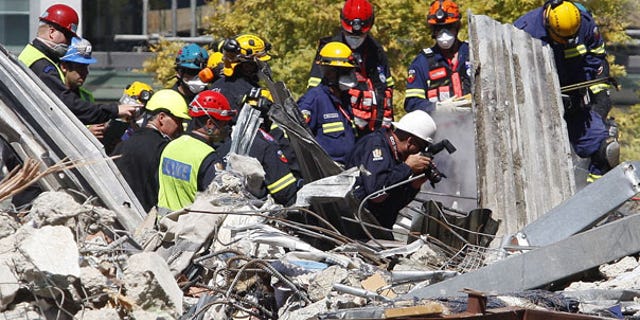 CHRISTCHURCH, New Zealand – Relatives of people still missing three days after an earthquake shattered the New Zealand city of Christchurch arrived Friday from several countries to join an anxious vigil for news that looked increasingly likely to be grim.
The official death toll continued to climb, to 113, and officials said rescue teams had pulled nothing but bodies from the rubble of collapsed buildings for 48 hours. Foreign Minister Murray McCully said the government was preparing to give family members from several countries "the worst type of news."
An English language school was in one of the hardest-hit buildings, the CTV office block, and students from Japan, China, the Philippines and other nations are believed to be among those inside when it collapsed. Police say up to 120 bodies are still inside and that no one is expected to have survived.
Many relatives of the missing arrived at Christchurch airport on Friday, including about 20 from Japan, who were quickly whisked onto a bus by embassy officials. The school posted an open invitation to friends and families of those missing to a meeting on Friday with police and school officials.
In the arrivals hall, Danny Campos, 27, waited for his uncle's flight from Australia. The family is original from Peru and Campos' aunt, Elsa Torres, was a translator at the language school and is among the missing.
We're "hoping that she's alive, but unfortunately, we just have to sit down and wait," he said.
Officials insisted that the massive effort involving more than 700 specialist teams from New Zealand and a host of other countries was a search and rescue operation, though they conceded it has turned more to the recovery of bodies.
"We are still hopeful that there still may be people rescued but it's getting less and less likely," Civil Defense Minister John Carter told reporters.
Work teams on Friday began gingerly picking through the piles of crumbled stone of the iconic Christchurch Cathedral, where the spire tower collapsed and where officials have said up to 22 bodies may lay entombed. The Christchurch City Council said workers started removing loose masonry from the site to allow recovery teams in to retrieve the bodies.
Another city emblem, the towering Hotel Grand Chancellor, had stopped moving on its foundations and was no longer in danger of imminent collapse, the Civil Defense Ministry said. Officials have said the badly listing building is beyond repair and will have to be demolished.
Police superintendent David Cliff said Friday morning that the latest count of bodies at a special morgue set up to deal with the dead was 113. With 228 people listed as missing, the toll of fatalities was still expected to rise.
Mayor Bob Parker said 70 people had been rescued.
Parker said about half the city of 350,000 had water that might be contaminated and the other half had none, and urged all to take precautions.
"It's really important that if your water is coming through the tap or is still coming in a container that that water is boiled," he said.
Power supplies also were gradually being restored. Residents have been urged to stay near home to stay out of the way of recovery workers and avoid shaky buildings.
At Keller Street in the suburb of Avonside, residents were pulling together to clean up after the earthquake pushed masses of sludge and water into yards and the street.
Paul Stokes, 52, and his wife Yvonne, 51, and daughter Mikala, 15, had their house knocked off its foundations by the quake, though it was stable enough for them to stay inside. A wood stove provided warmth against a chilly drizzle outside.
Stokes' sister, Christine Lagan, dropped by Friday to take the family's laundry back to her home outside Christchurch. The family is using a portable toilet set up outside.
Residents continually checked on their neighbors, delivered meat pies, chocolate, and bottles of water. A couple who runs a corner store was giving away food.
"We're all looking after each other," Yvonne Stokes said. "Once you find out you can depend on other people ... you know that you are fine in your house and your home."
Residents and visitors are leaving the city in droves, some on special flights organized by the military.
At the airport, Danish backpackers Catrine Stouge, 21, and Sofie Francker, 20, were among dozens of backpackers waiting for flights.
They were inside their downtown hostel when the quake struck, cracking walls and sending pots and pans smashing to the ground, but leaving those inside unharmed.
The women were evacuated to a nearby park, then to a rugby club, and then taken in by a family. They came to the airport Wednesday but found their flight to Australia canceled. They slept in the airport since then, using blankets brought by residents. Each morning, locals swing have swung by with homemade muffins. Airport officials have handed out drinking water and fruit.
"We're not used to such kind people," said Francker, as she picked at a bag of cashews.
___
Associated Press writers Steve McMorran in Christchurch, New Zealand and Ray Lilley in Wellington, New Zealand contributed to this report.