New Year's refugee sex attacks overshadow start of Carnival in Germany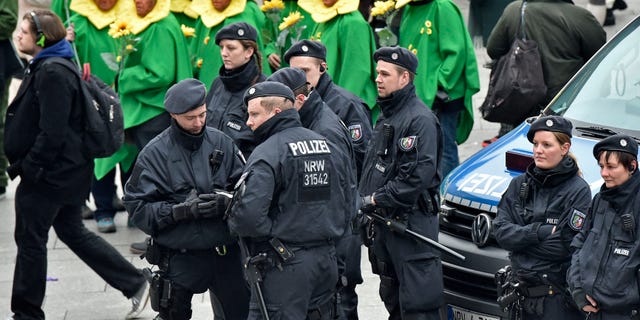 NEWYou can now listen to Fox News articles!
Cannon fire followed by a rain of confetti heralded the start Thursday of Cologne's annual Carnival, when hundreds of thousands of revelers take to the streets and pubs of the ancient German city for five days of boisterous partying.
Festivities this year have been overshadowed by security concerns, prompting police to double the number of officers on patrol to more than 2,000 in an effort to reassure the public after an unprecedented series of robberies and sexual assaults mostly targeting women at New Year.
Police say the attacks were mostly carried out by foreigners, fueling debate in Germany about the country's ability to cope with the huge number of migrants that have arrived over the past year.
In the old town, three young women dressed as clowns said they weren't deterred by what had happened at New Year. "There is a lot of security and everyone is looking out for each other," said one of them, Julia Moser.
Special safety points where people can go if they feel threatened have been set up at major squares. Henriette Reker, Cologne's mayor, has pledged to prevent a repeat of the New Year's attacks.
Still, some revelers said the city felt emptier than in previous years, though the wet weather could have been to blame.
Christa Schneider, a native of Cologne, said the mood seemed more sober than usual. Her group planned to avoid dark alleys and overly large crowds, she said.
The first day of Carnival is traditionally referred to as "Weiberfastnacht" -- a day when women symbolically take charge of the city.
Josef Sommer, who heads the city's tourism agency, said he was confident the additional security measures would prevent a repeat of the New Year's assaults and allay latent fears of Paris-style attacks by extremists.
"Everyone can celebrate Carnival the way they're used to, with the exception perhaps that people should follow police advice to refrain from wearing costumes that include realistic replica weapons," Sommer told The Associated Press.
The New Year's assaults sparked a nationwide uproar, the removal of Cologne's police chief and a heated debate about integration at a time when Germany has seen huge numbers of refugees come into the country. Almost 1.1 million asylum-seekers arrived in Germany last year and most of the attackers in Cologne were described as being of Arab or North African origin.
Cologne prosecutors say they have received 1,037 criminal complaints over the New Year's events, including 446 allegations of sexual assault, three of them rape.
Criminal proceedings have begun against 50 individuals, of whom 11 are in custody, said Cologne prosecutor Ulrich Bremer. Most of the suspects are from Algeria, Morocco and Tunisia, he said. Several are asylum-seekers.
Cologne authorities have put in place additional video surveillance and street lighting to deter attackers and make it easier to catch any perpetrators. The city's new police chief, Juergen Mathies, said, however, that it would probably be impossible to prevent all crime, noting that last year's Rose Monday Carnival parade also saw 50 allegations of sexual assault, from groping to rape.
Adding to the tension, police conducted raids Thursday in Berlin and two western states as part of an investigation against four Algerian men suspected of planning attacks in Germany and having ties to the Islamic State group.
With no end in sight to the stream of migrants coming to Germany -- the government said more than 91,000 asylum-seekers arrived in the country last month -- public jitters about the long-term impact have given rise to increasing anti-immigrant sentiment.
Authorities and social welfare groups had organized Carnival `training sessions' for migrants to enjoy and understand the boisterous celebrations without coming into conflict with locals.
However, few asylum seekers appeared to be taking part in the beer-fueled festivities Thursday, though some young Afghan and Roma men could be seen collecting discarded tin cans, which can be returned for a few cents each.
Carnival is a lucrative event for Cologne, said Sommer, the tourism chief. But more importantly the city has an image to protect, he said.
"Cologne has an image as an international and tolerant city, where people from all cultures celebrate and have fun together."