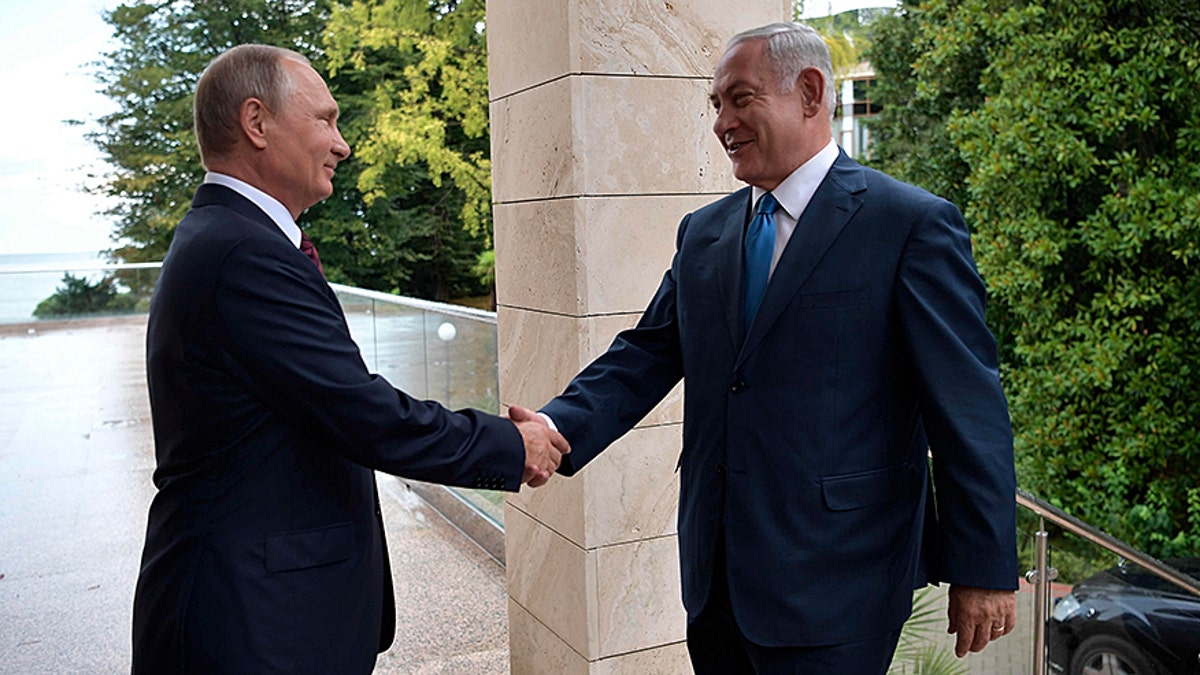 Israeli Prime Minister Benjamin Netanyahu warned Russian President Vladimir Putin on Wednesday that Iran is seeking to establish a permanent military presence in Syria -- and hinted at a possible Israeli military response to such a development.
Russia and Iran back Syrian President Bashar Assad in the country's bloody civil war, and both powers have helped Assad's army win back key areas of the country. But at the same time, Moscow has maintained friendly ties with Israel and established military-to-military contacts to prevent confrontations in Syria.
Netanyahu's meeting with Putin in Sochi on Wednesday was the sixth time the leaders have spoken in person since Russia became involved in Syria's civil war. In a statement prior to the meeting, Netanyahu said Iran was "making an escalated effort to base itself militarily in Syria. That presents a danger to Israel, the Middle East and in my estimation, the entire world. Iran is already in the advanced stages of taking over Iraq and Yemen, and in practice already controls Lebanon."
Netanyahu added "Iran continues every day to threaten Israel with destruction," and hinted of possible Israeli action if the Islamic Republic's sphere of influence grows: "we will defend ourselves with all means against this threat."
After three hours of talks Wednesday, Netanyahu said in a statement he "expressed to President Putin very clear things about our position on this matter and the fact that it is not acceptable to us."
"I can say regarding past meetings with President Putin that every conversation like this served Israel's security and Israel's interests, and I believe Russian interests as well," Netanyahu said. "Based on this conversation today, I think I can say the same things about it."
Putin addressed what he described as an "efficient mechanism of cooperation" between Russia and Israel, but did not mention Iran in comments at the start of the talks.
The head of the Mossad, Israel's foreign intelligence agency, and the chief of the country's National Security Council joined Netanyahu at the meeting.
The Associated Press contributed to this report.