Netanyahu sends message of solidarity to Pittsburgh's Jewish community after synagogue massacre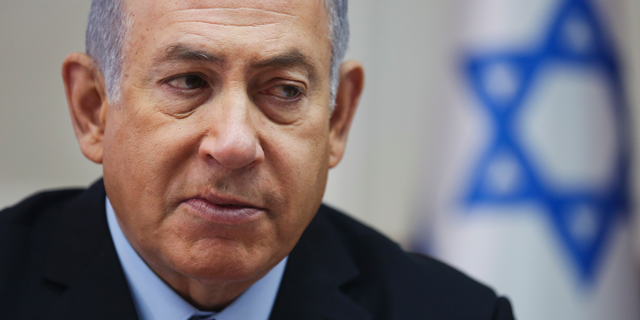 Israeli Prime Minister Benjamin Netanyahu sent a tribute to the Jewish community of Pittsburgh following Saturday's mass murder at a Pennsylvania synagogue, allegedly by a gunman who expressed hatred of Jews as he opened fire with an AR-15 rifle and other weapons, and later told police, "All these Jews need to die."
As Fox News previously reported, 11 people were killed and six were wounded in one of America's deadliest attacks on members of the Jewish faith.
"Over the centuries, Jews have been subjected to every kind of savage attack imaginable — from blood libels and massacres to pogroms and genocide — for nothing more than the 'crime' of being Jewish," Netanyahu said. "After the Holocaust, many hoped that antisemitism would finally be relegated to the dustbin of history. It wasn't. In fact, in the past couple of decades, antisemitism has emerged once again as a potent and deadly force."
In his message he thanked President Trump and other American leaders across the political spectrum for their condemnation of the attacks and condolences.
"While these attacks are nothing new in the history of our people, what is new is our ability to fight back against the (anti-Semites). Israel does that every day," his message added. "But the Jewish people are also blessed to have many friends around the word who reject and fight antisemitism."
Robert Gregory Bowers, the alleged mass murderer, killed eight men and three women inside the Tree of Life Synagogue on Saturday during worship services before a tactical police team tracked him down and shot him, authorities said in state and federal affidavits made public on Sunday.
SUSPECT SHOUTED ANTI-SEMITIC RHETORIC DURING ATTACK, AFFIDAVIT SHOWS
Six people were injured in the attack, including four officers.
Officials released the names of all 11 of the dead, all of them middle-aged or elderly. The victims included intellectually disabled brothers and a husband and wife. The youngest was 54 and the oldest was 97, a Holocaust survivor.
Bowers allegedly shot his victims with an AR-15 — the weapon used in many of the nation's mass shootings — and three handguns, all of which he owned legally and had a license to carry, according to a law enforcement official who wasn't authorized to discuss the ongoing investigation, and who spoke Sunday on condition of anonymity.
SOCIAL NETWORKING PLATFORM GAB BANNED BY PAYPAL, SUSPENDED BY 2 OTHER PLATFORMS
Little else was known about Bowers, who had no apparent criminal record but who was believed to have expressed virulently anti-Semitic views on social media. He apparently acted alone, investigators said.
"In this hour of immense grief, the Jewish community of Pittsburgh and all Americans who mourn today should know that the Jewish state mourns with you," Netanyahu's message concluded. "May the families of all those who died be comforted among the mourners of Zion and Jerusalem."
The Associated Press contributed to this report.