Nepal airport passenger plane crash leaves at least 50 dead, official says
At least 50 people were killed when a Bangladeshi passenger plane crashed and burst into flames Monday as it landed at Kathmandu airport in Nepal, a police official said.
Brig. Gen. Gokul Bhandari, the Nepal army spokesman, confirmed 50 people died when the plane, operated by Bangladeshi airline US-Bangla, swerved off the runway as it was landing in Nepal's capital around 2:20 p.m. local time. It was unclear how many people remained injured because of the chaos that followed after the deadly crash.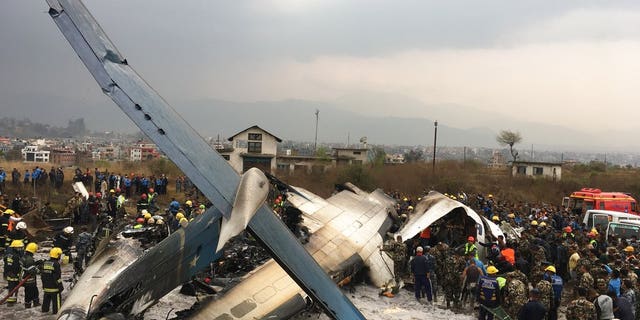 There were 67 passengers and four crew members on board, officials said. Of the 67 passengers, 32 were from Bangladesh, 33 were from Nepal, one was from China and another was from the Maldives. It's unclear what the four crewmembers' nationalities where.
"It was flying so low I thought it was going to run into the mountains," Amanda Summers, an American who works in Nepal, told The Associated Press after watching the crash. "All of a sudden there was a blast and then another blast."
Summers said it was unclear if the plane had reached the runway.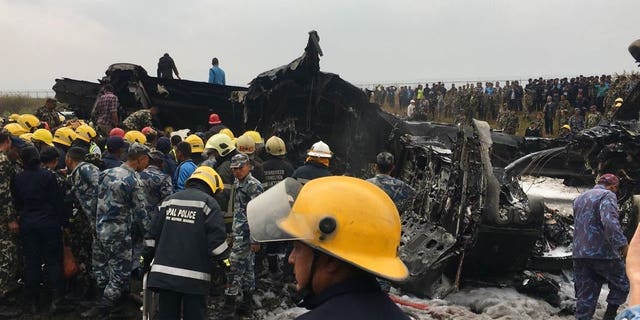 "I have no other details," said an employee, who works at the US-Bangla offices. "But a bad incident has happened."
Dozens of firefighters and rescue workers responded to the site of the wreck, where scraps of the burned aircraft remained. Firefighters were able to put out the flames within minutes, however, dark smoke was seen billowing from the sky above the airport.
Flights out of the airport were canceled after the incident.
The Nepal incident comes just hours after a Turkish business jet crashed into a mountain in Iran on Sunday, killing all 13 aboard.
US-Bangla Airlines operates Boeing 737-800 and smaller Bombardier Dash 8 Q-400 planes.
The airline, part of US-Bangla Group, is based in the Bangladeshi capital, Dhaka, and flies to several domestic and international destinations. The parent company is involved in a number of industries, including real estate, education and agriculture.
Kathmandu's airport has been the site of several deadly crashes. In September 2012, a Sita Air turboprop plane carrying trekkers to Mount Everest hit a bird and crashed shortly after takeoff, killing all 19 on board.
The Associated Press contributed to this report.