A U.S. Navy fighter jet shot down a Syrian government warplane after it attacked Washington-backed fighters near ISIS' de facto capital of Raqqa, the U.S.-led coalition said Sunday.
In a statement, the coalition headquarters in Iraq said that a F/A-18E Super Hornet shot down a Syrian Su-22 that had dropped bombs near positions held by the Syrian Democratic Forces (SDF).
The statement said coalition aircraft had "conducted a show of force" to turn back an attack by Syrian leader Bashar al-Assad's forces on the SDF in the town of Ja'Din, south of Tabqah.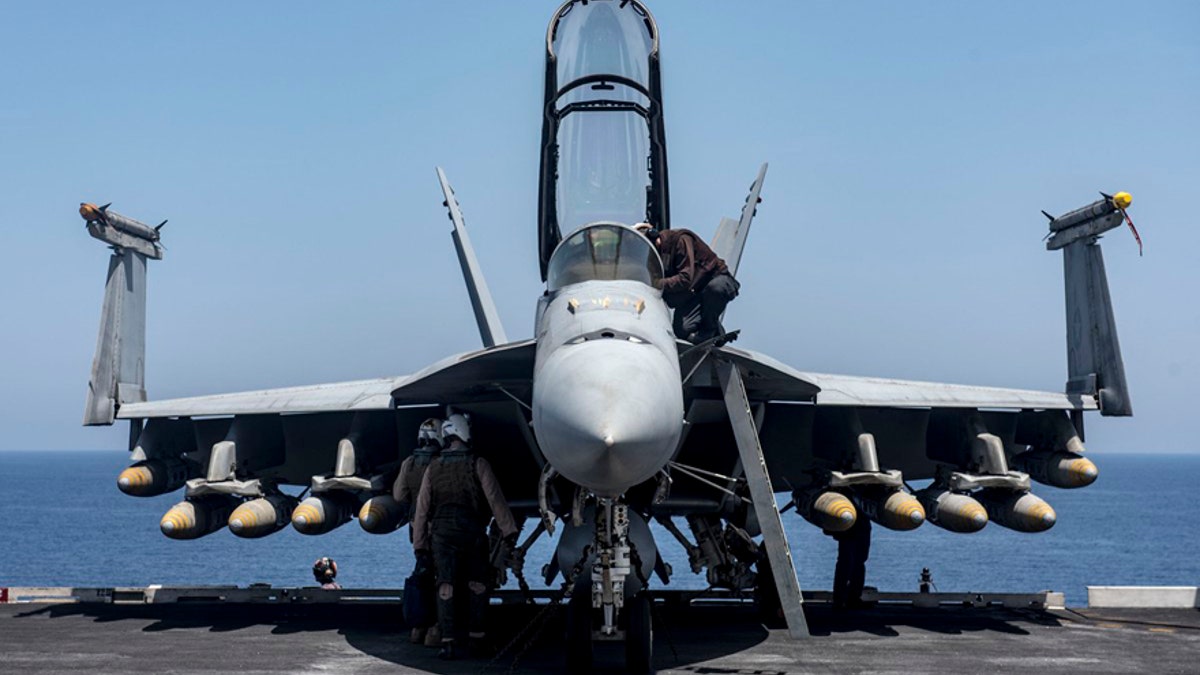 The coalition said the shootdown took place "in accordance with rules of engagement and in collective self-defense of Coalition partnered forces."
The statement said "a number of SDF fighters" were wounded in the regime's attack, but did not specify further. The coalition also said that Russian officers had been contacted on a special "de-confliction" hotline in an effort to halt the assault.
"The Coalition's mission is to defeat ISIS in Iraq and Syria," its statement said. "The Coalition does not seek to fight Syrian regime, Russian, or pro-regime forces partnered with them, but will not hesitate to defend Coalition or partner forces from any threat."
The statement went on to call for all parties in Syria's complex and bloody six-year-long civil war to "focus their efforts on the defeat of ISIS, which is our common enemy and the greatest threat to regional and worldwide peace and security."
A U.S. defense official told Fox News that the Super Hornet that shot down the Syrian jet was based on board the USS George H.W. Bush, which is currently operating in the Mediterranean Sea. The official did not say which weapon was used to shoot down the Syrian plane.
U.S. forces tangled earlier this month with Syria-allied aircraft in the region. On June 8, U.S. officials reported that a drone likely connected to Iranian-supported Hezbollah forces fired on U.S.-backed troops and was shot down by an American fighter jet. The incident took place in southern Syria near a base where the U.S.-led coalition was training Syrian rebels fighting the Islamic State group.
An Army spokesman at the Pentagon said at the time that the drone carried more weapons and was considered a direct threat, prompting the shootdown.
Just hours earlier, the U.S. had bombed Syrian government and allied troops inside a protected zone in that area, and marked a sharp escalation in the skirmishes between the coalition and those pro-Syrian government forces there.

In April, the U.S. Navy launched 59 cruise missiles targeting a Syrian airbase from two destroyers in the Mediterranean following a chemical weapons attack by Assad's forces.
Fox News' Lucas Tomlinson and FoxNews.com's Hollie McKay contributed to this report. The Associated Press also contributed to this report.