NATO Starts Clearing Roadblocks in Kosovo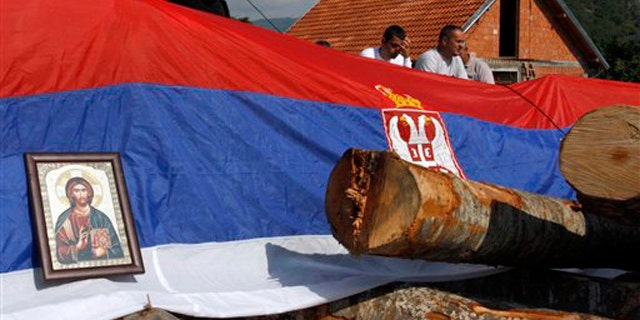 NATO has removed some roadblocks put up by Serbs in Kosovo's north, but other barricades remain following a week of violence that left one Kosovo policeman dead, a spokesman for the alliance said Monday.
Cpt. Hans Wichter said peacekeepers have removed three roadblocks made of gravel and tree trunks that stopped the force from accessing bases in the north. It is unclear how many remain, but NATO said there are least five on two roads at the Serbia border.
The roadblocks were put up in protest of a Kosovo police action to control two disputed crossings with Serbia. After police withdrew last week, a mob of Serb attackers set fire to one border post and fired on NATO peacekeepers sent to quell the violence.
Wichter did not disclose what the military alliance was going to do with the remaining roadblocks, saying it was "a military secret." Infantry units were sent to secure the volatile area, Wichter said.
"There is still the threat of snipers and armed resistance from radical elements," Wichter told The Associated Press.
"They are armed with rifles, pistols and perhaps explosives."
An AP reporter witnessed Portuguese and Hungarian peacekeepers stopping ahead of a barricade manned by at least 200 Serbs.
The peacekeepers came under fire as they deployed to take over control of two border crossings in last week's operation. Traffic has since been closed for trucks, raising concerns that the Serb ethnic minority, which rejects all links with the Kosovo government, is running short on food supplies.
Wichter blamed Serb leaders for blocking supplies.
"In our eyes they are responsible," he said.
In a further act of defiance to Kosovo's claim to statehood Serbia's top Kosovo officials, Borislav Stefanovic and Goran Bogdanovic, met with Serb representatives in the northern town of Zvecane, a Serb stronghold just north of the ethnically split city of Mitrovica.
Kosovo authorities have threatened to arrest them if they enter the country, but are unable to act in the majority Serb dominated area.
Bogdanovic told Serbia's state-run news agency Tanjug that the barricades will not be removed until the issue of the two crossings is resolved.
Serbs want the crossings to be manned by Serbs and reject to pay customs duty for goods entering Kosovo because that would establish Kosovo as a state and erode Serbia's claim over the territory.
Last week Kosovo's Prime Minister Hashim Thaci ordered special police units into the Serb-run area to enforce a ban on Serbian goods at the two border crossings under Serb control. The move sparked anger among local Serbs who want the former province of Kosovo to remain part of Serbia.
The recent violence was condemned by the European Union, which has a 3,000-strong rule of law mission in Kosovo, known as EULEX.
Relations were strained after EULEX was sidestepped by Kosovo authorities in conducting the operation in the north.