N.J. Nets Owner Wants to Buy Russia Media Holding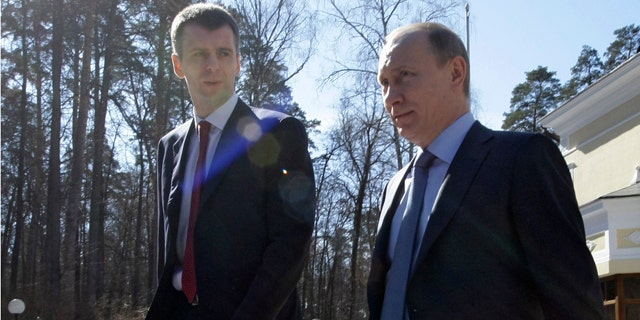 MOSCOW – The billionaire owner of the New Jersey Nets running for the Russian presidency against Vladimir Putin is expected to make a formal offer to buy a leading media holding Wednesday, his representative said.
Mikhail Prokhorov, who is worth about $18 billion, according to Forbes magazine, announced his candidacy earlier this week for the March presidential election.
Prokhorov will be making a formal offer to buy the Kommersant publishing house from Alisher Usmanov, Prokhorov's spokeswoman Olga Stukalova told The Associated Press. Usmanov, however, was quoted by the Interfax news agency as saying he doesn't have any plans to sell it.
Usmanov, a metals magnate, bought Kommersant for $200 million in 2006. The holding, which includes Russia's top business daily and other publications, has since expanded into radio and television broadcast.
On Tuesday, Usmanov fired an editor and a senior manager after the Kommersant Vlast weekly published an article about alleged fraud in Russia's Dec. 4 parliamentary election. Among the accompanying photos was a picture of a ballot which contained vulgar words directed at Putin, and the weekly's editor, Maxim Kovalsky, said he was told that it had served as a reason for his ouster.
The election saw a sharp drop in support for Putin's United Russia party, and widespread allegations against ballot-stuffing and other violations in the vote drew tens of thousands to a protest across the river from the Kremlin -- the largest show of discontent since the 1991 collapse of the Soviet Union.
Usmanov explained his decision by saying that some recent reports in Vlast "bordered on petty hooliganism."
But Kovalsky's deputy, Veronika Kutsillo, said the photograph with the swear words was just a pretext behind the move by Usmanov, who previously had expressed his dissatisfaction with the magazine's contents.
"This isn't merely a punishment of an obstinate editor, it's a signal that the magazine's course must change," Kutsillo said in an e-mailed message, adding that she decided to resign.
More than 50 Kommersant journalists have signed an open letter to protest Kovalsky's firing.
"We view this firing as an intimidation effort aimed at preventing any criticism of Vladimir Putin even if this concerns photographs," the letter said.
Putin has enjoyed blanket positive coverage from state-controlled television networks, and some of the print media, which have remained independent and often been critical of the government, have faced pressure from owners fearing their business interests could be hurt because of the criticism.
Prokhorov's presidential bid follows his botched performance before the parliamentary election when he formed a liberal party with the Kremlin's tacit support but abandoned it under what he described as Kremlin pressure.
Some observers said that Prokhorov may have made amends with the Kremlin and might be running to accommodate voters unhappy with the authorities.
But Prokhorov rejected the accusation in his blog on Wednesday.
"Naturally, my candidacy is good for the Kremlin. Naturally, they want to play democracy and show that people have 'some kind of a choice'," he wrote. "But we must absolutely use the authorities too if we don't want to just make some noise and disappear, but to change our lives for the better."