Mystery surrounds death of US defense contract worker at Saudi hotel
NEWYou can now listen to Fox News articles!
The mysterious death in Saudi Arabia of an American defense contractor who fell from a third story hotel window has family and friends emphatically denying his employer's original claim that he committed suicide.
New Hampshire native Christopher Cramer, 50, was found dead on Jan. 15 after a three-story tumble from the window of the Sahara Makarim Hotel in the city of Tabuk, where he was staying.
Cramer was in the region for Advance Defense Systems of Kollsman, providing technical assistance for a demonstration and sale of a TOW anti-armor missile system. His employer originally told family members that Cramer had committed suicide, a claim they immediately disputed, citing chilling messages begging for help that he sent to a friend just before his death.
"He called me three times that night and left me messages saying that he was in danger and to call the State Department," Cramer's friend and family attorney Noah Mandell told FoxNews.com. "He was there, he was in danger, and I believe he was killed.
"I know he didn't commit suicide. You don't send out a text like that before jumping out of the window."
"What's troublesome is the cover-up. The announcement by the company that it was a suicide before seeing all the evidence is strange."
Cramer's family agrees with Mandell. Those who knew him say he was a happy person who never showed signs of depression or wanting to take his own life.
"He was a happy guy," Cramer's nephew, Chris Arsenault, told FoxNews.com. "He was always a strong-willed man who lived for his family."
Arsenault added that when his uncle could not reach Mandell, he texted another friend pleading for help.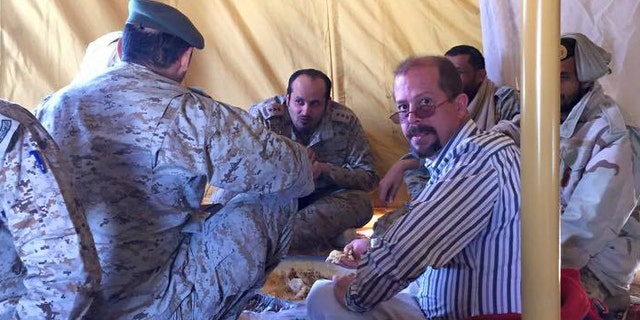 "I'm at the Marakim tabuk hotel in Saudi," reads a screengrab of the text message provided to FoxNews.com. "I think something bad is going to happen to me tonight. Please contact state dept ASAP. Bad things were said."
Arsenault said that the messages were not typical of Cramer and that he spoke to him just a few days before his death and nothing seemed wrong.
"It just wasn't right," he said. "He would not send a text like that unless he was truly in trouble."
Kollsman quickly backed away from its claim that Cramer committed suicide after his family rejected it.
In a statement provided to FoxNews.com, a representative for the company said it was working to help obtain police reports and have Cramer's body sent back to his family in Hudson, N.H. for burial.
"We are all deeply saddened by the sudden passing of Chris Cramer and are offering our continuous support and assistance to Chris' family and his colleagues, Clark Freise, a vice president with Kollsman, said in the statement. "Like the family, we are eager to learn more about his death and are in continuous contact with the U.S. Department of State to strongly encourage their assistance in obtaining the final report of the local police regarding the circumstances surrounding Chris' passing. It is important to bring Chris home to his loved ones and we are working closely with the family to expedite the repatriation of Chris."
State Department officials did not immediately return requests for comment but had issued an earlier statement after Cramer's death.
"We can confirm that U.S. citizen Christopher J. Cramer died outside the Sahara Makarim Hotel in Tabuk on January 15," reads the statement. "We express our deepest condolences to his family and friends. Officials from the U.S. Consulate General in Jeddah, Saudi Arabia are in contact with the family and are providing consular assistance.
"Out of respect for the privacy of those affected by this tragedy, we will not comment further. For questions regarding the investigation, we refer you to the Tabuk Police Department."
Cramer's family describes him as a loving man who always put his family first.
"He's the type of soul that would do anything for anyone," his sister, Jennifer Kelly, told FoxNews.com. He had a great enthusiasm. He could light up the room."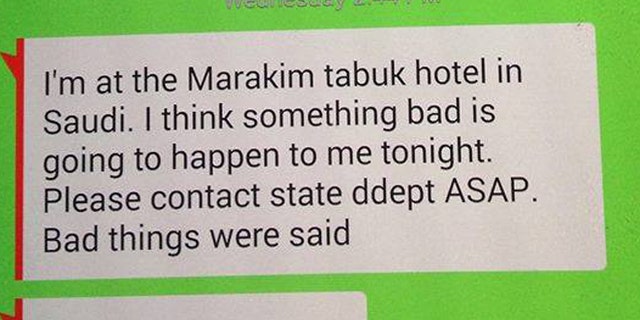 Kelly said that Cramer left on January 8 and told her not to worry, that he would be back in a few weeks.
"I think I had a harder time with him going than he did," she said. "He told me, 'Jen, don't worry.'
"He was a little nervous But I think anyone would, given what's going on in the region. I think he felt that Kollsman had his back but I think he had a false sense of security."
The family is hoping for more answers.
"I know he didn't commit suicide," Kelly said. "You don't send out a text like that before jumping out of the window."
"I feel like they [Tabuk police] are covering something up," she said. "We just don't want to see this go away and be swept under the rug."
Follow Perry Chiaramonte on Twitter: @Perrych