Murdoch recalled by MPs over police comments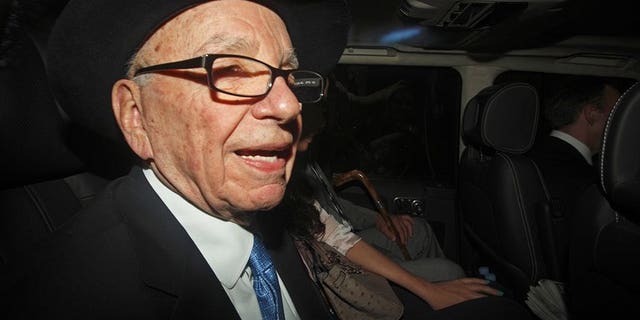 LONDON (AFP) – MPs have recalled Rupert Murdoch to testify after a tape recording emerged of the media tycoon slamming the police investigation into alleged phone hacking and bribery by his journalists.
Scotland Yard said it would also assess the comments by the 82-year-old News Corp. chief, in which he calls the police probe a "disgrace" and claims that paying officers for tip-offs had been "going on a hundred years".
Australian-born Murdoch appeared before the Culture, Media and Sport Committee of the House of Commons two years ago at the height of the hacking scandal that closed the News of the World.
A spokeswoman for the scrutiny panel confirmed Tuesday that it would ask Murdoch to appear again to discuss his comments on the police probe, adding that it was expected to happen in the autumn although no date has been agreed.
According to the tape obtained by the Exaro investigative website and released by Channel 4 television last week, Murdoch said his US-based News Corp. made a "mistake" in handing over so much information to police.
Murdoch was speaking in March at a meeting with journalists at The Sun, where he also appears to suggest that reporters jailed as a result of the probe could return to their jobs.
"It's a disgrace. Here we are, two years later, and the cops are totally incompetent," he said.
"We're talking about payments for news tips from cops: that's been going on a hundred years. You didn't instigate it."
Murdoch shut down the News of the World in July 2011 after it emerged the weekly had illegally accessed the voicemails of hundreds of public figures, including murdered teenager Milly Dowler.
London's Metropolitan Police has arrested dozens of people since 2011 as part of parallel investigations into the hacking and into the illegal payment of public officials for information.
Assistant Commissioner Cressida Dick, a senior police officer in charge of the force's specialist operations, told MPs on Tuesday that Scotland Yard is trying to get a copy of the recording.
"We will assess the full contents of that tape," she said.
She added that the police investigations, which now indicate that up to 5,500 people had their phones hacked, were "progressing extremely well".
Murdoch's comments on the recording were a far cry from his first appearance before the media committee in July 2011, when he apologised and said "this is the most humble day of my life".
He appeared alongside his son James.
During the same evidence session a protester attacked Murdoch senior with a foam pie, upon which his wife Wendi Deng leapt to his defence. Deng and Murdoch, who have two children together, announced last month that they are to divorce.
The committee published a scathing report in May 2012 saying Murdoch was unfit to lead a major global company.
Rupert and James Murdoch also both appeared before the Leveson Inquiry, a long-running, judge-led probe into the hacking scandal, which wrapped up last year by calling for state-backed regulation of newspapers.