Mueller report: Russia has 'more important things' to worry about, Putin spokesman declares
Hours before Special Counsel Robert Mueller's report was released, concluding that there was no collusion between the 2016 Trump campaign and Russia, Vladimir Putin's official spokesman said the Kremlin had more important things to worry about.
"It is America that is looking forward to the report's release, but we aren't," Dmitry Peskov said Thursday, according to Russia's TASS news agency. "This is not an issue for us, it is not a thing that interests us or causes us concern.
READ THE ROBERT MUELLER REPORT
"All the reports on the matter that have been released so far contain nothing but cursory statements," he continued, adding "We have more interesting and important things to do".
Attorney General William Barr, held a press conference Thursday morning ahead of the release of the redacted report and repeated Mueller's conclusions that the investigation found no evidence of collusion between Russia and Trump campaign officials in the 2016 presidential election.
MUELLER REPORT SHOWS PROBE DID NOT FIND COLLUSION EVIDENCE, REVEALS TRUMP EFFORTS TO SIDELINE KEY PLAYERS
TRUMP DECLARES VICTORY AS MUELLER REPORT DROPS: 'NO COLLUSION, NO OBSTRUCTION'
The Mueller report confirmed that the Russian government did seek to interfere in the election, using a Russian troll farm to "sow social discord among American voters through disinformation and social media operations". The GRU, Russia's military intelligence agency also carried out an effort to "hack into computers and steal documents and emails from individuals affiliated with the Democratic Party and the presidential campaign of Hillary Rodham Clinton for the purpose of eventually publicizing those emails."
These materials were then transferred to Wikileaks so they could be published.
Earlier this month, Putin dismissed the Mueller report as "complete nonsense".
TRUMP THOUGHT PRESIDENCY WAS OVER WHEN TOLD OF MUELLER'S APPOINTMENT: 'THIS IS THE END... I'M F---ED'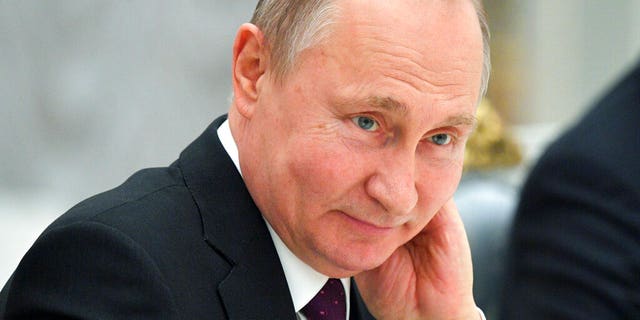 "It was clear for us from the start that it would end like this," he told an audience in Saint Petersburg. "A mountain gave birth to a mouse.
"I've been telling you this all along. We said from the start that this infamous commission of Mr Mueller's would not find anything because nobody knows this better than us. Russia did not meddle in any elections in the United States. There was no collusion, as Mr Mueller said, between Trump and Russia."
Trump, for his part, said Thursday morning as the report dropped that "this should never happen to another president again."
"I'm having a good day, too, it's called 'no collusion, no obstruction,'" he said in remarks for the Wounded Warrior Project Soldier Ride, at the White House. "There never was by the way, and there never will be."
CLICK HERE FOR THE FOX NEWS APP
"This should never happen to another president again, this hoax, it should never happen to another president again," he added.
Fox News' Adam Shaw contributed to this report.